Mario Cristobal says injured Kayvon Thibodeaux "getting better and better"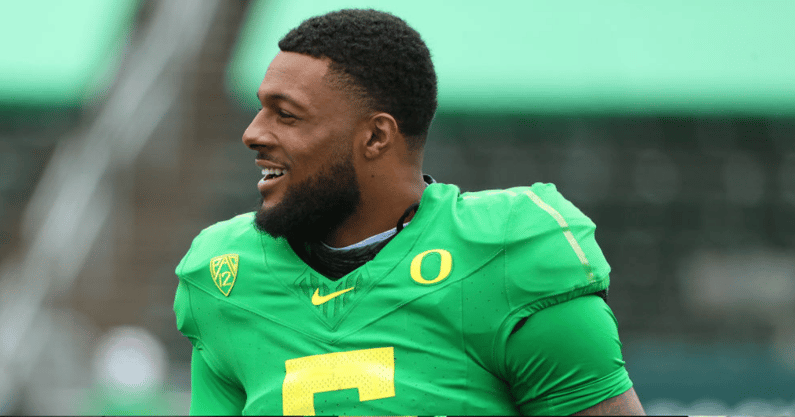 Kayvon Thibodeaux's injury status stole the headlines Saturday morning as the nation waited find out if Oregon's sophomore star would suit up against Ohio State.
Roughly 90 minutes before kickoff, it became apparent that Thibodeaux would not be able to go. Two days later his status is still murky.
Oregon coach Mario Cristobal gave an update on Thibodeaux's injury Monday, but did not shed much light on when the star edge rusher might return this weekend.
"With Kayvon, he's getting better and better," Cristobal said. "We just don't know. Those things are a little bit tricky.
"We thought there might have been a chance, but we just felt it wasn't quite time yet."
Even without Thibodeaux, the Ducks escaped Columbus with a win — something few thought they had a chance to do once it became apparent he would miss the game.
That is thanks in no small part to the efforts of Bradyn Swinson and a few others who played well on the edge.
Injury rundown
Oregon's injury list is extensive at this point. Thibodeaux's status for Saturday's matchup against Stony Brook is uncertain, and it's possible the Ducks hold him out even if he is mostly healthy.
Tight end Cam McCormick is out for the season. Linebacker Justin Flowe has "a significant" injury but Cristobal has not given a timeline for when he may be OK to play.
Linebacker Mase Funa left the Ohio State game late with an injury, but Cristobal said Monday he is confident Funa is "good to go."
Linebacker Keith Brown started in place of Flowe and injured starter Dru Mathis Saturday, but left late in the game with what appeared to be a leg injury. Later that day, Brown's mother Tweeted that the freshman had simply cramped. Cristobal said Monday that was indeed the case.
With Flowe and Mathis out for the foreseeable future, it appears that Brown will get the majority of the reps at weak-side linebacker.