Mario Cristobal provides update on Kayvon Thibodeaux's injury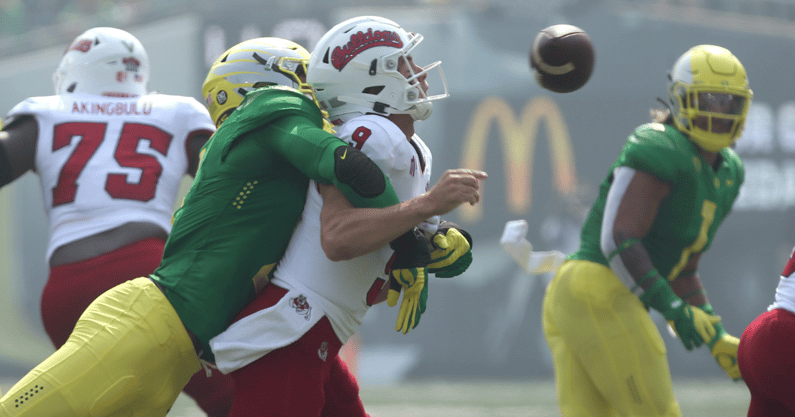 Autzen Stadium held its collective breath Saturday when Oregon star sophomore Kayvon Thibodeaux collapsed to the turf with an injury.
Thibodeaux suffered a left ankle sprain in the Ducks' 31-24 season-opening win over Fresno State, and while he did return for a brief stretch after having his ankle taped, he ultimately emerged from the locker room in street clothes after halftime and saw his day come to an end.
On Monday, Oregon coach Mario Cristobal gave an update on Thiboeaux's status.
"He's improving," Cristobal said. "That will be a day-to-day thing. By Tuesday or Wednesday I'll give you guys an update on him."
Cristobal said Thibodeaux has been receiving treatment for the injury and is trying to work through it.
"He got rolled up on — you guys saw it on film," Cristobal said. "One of their lineman had driven one of our guys into the ground and rolled into the back of his legs, caught his ankle a little bit.
"So he has an ankle sprain and that's what we're working through."
Thibodeaux is a consensus preseason All-American and was recently tabbed by ESPN's Mel Kiper Jr. as the top prospect in the 2022 NFL Draft.
He wasted no time making an impact in the season-opener and delivered a massive hit on Fresno State quarterback Jake Heaner that resulted in a fumble.
For the rest of the first quarter, Thibodeaux applied pressure to Haener seemingly every time he dropped back, and Oregon's defense was firing on all cylinders early on.
But once Thibodeaux exited the game, the Oregon defense struggled for large periods of the game.
Cristobal hinted that Thibodeaux may not be able to play at Ohio State on Saturday if he can not practice this week.
"Playing is gonna be dependent on a guy being able to practice," Cristobal said. "If a guy can't practice, I don't think it's in his best interest or the team's best interest to put a guy out there who hasn't been able to rep.
"So we'll take it day by day."