Nation taking notice after CJ Verdell's massive performance at Ohio State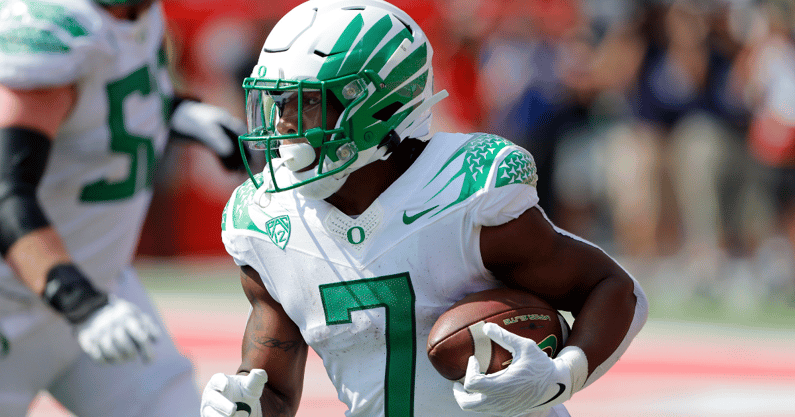 CJ Verdell was in the middle of answering a question from a reporter Monday when a loud yell rang out from across the Hatfield-Dowlin Complex courtyard.
"CJ for Heisman!"
Verdell gives a nervous laugh and shakes his head.
"Man, this is crazy," he mutters.
The soft-spoken Oregon star would love nothing more than for the spotlight to be aimed away from him. A week ago, that may have been possible.
But after the demolition job Verdell and Oregon's offensive line put on Ohio State's defense in Columbus over the weekend, his days of flying under the radar are over. Oregon's thrilling upset at The Shoe launched the Ducks into the College Football Playoff picture, and Verdell into the national spotlight.
"To be honest, it's not something I really like to look into or feed into," Verdell said Monday of the recent accolades he has received. "It's nice and all, but I understand the bigger goals that we have ahead here."
Like it or not, he is now the face of an Oregon offense that is one of the hottest in the country.
"He's a fantastic kid," Oregon offensive coordinator Joe Moorhead said. "He doesn't say too much — he's kind of quiet and keeps to himself. But he's very driven. He's very focused."
Verdell finished Saturday with 160 rushing yards and two touchdowns on 20 carries, and added 34 yards and one touchdown on three catches. He earned Pac-12 Offensive Player of the Week honors for his efforts.
It isn't just that he put up those big numbers; it's how he did it that was so impressive. For a player who has typically been a North-South runner throughout his career, Verdell found himself in space early and often against Ohio State and was seemingly unstoppable running to the boundary all afternoon.
Now, Vegas Insider has his Heisman odds at +2500 — the seventh-best of any player in the nation. Every other player in the top-10 of that list is a quarterback.
College football glamorizes the production of quarterbacks above all else, and no running back has finished as a Heisman finalist since Bryce Love did so in 2017. Verdell, who epitomizes Mario Cristobal's vision of the Ducks conquering the nation with a hard-nosed, in-your-face identity, could very well change that.
"I think you see that he has the ability to run between the tackles and get the tough yards and play behind his pads," Moorhead said. "When you see him against a defense with the speed and athleticism of Ohio State, when he split to the third level, he was able to run away form all those guys.
"He's a very fast guy, too. I think we're scratching the surface of what we'll be able to do."
It's typically been the case throughout Verdell's career that whenever he succeeds, the Ducks succeed. Oregon is now 10-1 when he runs for 100 yards or more, and he was the MVP of the Pac-12 Championship Game as a sophomore.
The issue has been keeping him on the field. Nagging, seemingly unrelated injuries, have sidelined Verdell throughout his career.
To stymie that trend, he devoted last offseason to taking care of his body and implementing a more rigid stretching and mobility routine. It's already benefited him this season; the frequent trips to the trainer's room before and after practice have left him feeling better on Sunday mornings than he ever did in past seasons.
If Verdell remains healthy, and Oregon's offensive line continues to pave semi truck-sized holes like it did in Columbus, the sky is the limit for what he can achieve in Moorhead's offense.
But don't expect his demeanor to change, no matter how much success comes his way. Verdell grew up in a military family, and his father helped instill in him a humble mindset that he still carries to this day.
"Don't worry too much about the praise or outside noise," Verdell said. "The same people that pat you on the back for doing well, as soon as you start doing bad, they'll talk bad about you.
"Either way. … I just try to play hard, regardless."