Oregon baseball looks to bounce back in crucial series at ASU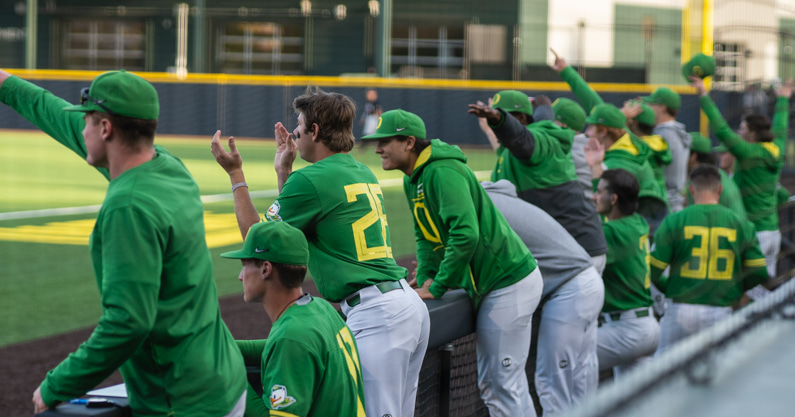 The month of May has been a tumultuous one for Oregon baseball.
On April 30 the Ducks were 28-14, were in the mix for a regular-season Pac-12 title, and had been tabbed by at least one national outlet as a favorite to host a postseason regional in Eugene.
Since the calendar turned, though, disaster has struck.
Oregon is 1-6 in May and lost four games at the hands of Oregon State in that time. On Tuesday, the Ducks fell 3-0 to visiting UC San Diego — a Big West school that currently sits at No. 170 in the national RPI rankings.
"I guess the best way to put it is: we know that there's an expectation at the University of Oregon," Ducks' coach Mark Wasikowski said on Wednesday. "When we meet it we know what it looks like. When we don't, we know what that looks like as well.
"Very simply, we're gonna try to meet that expectation of what fans and people around here expect out of their athletics programs."
Oregon snapped its losing streak on Wednesday with an emphatic win 15-6 win over UC San Diego that featured a handful of lineup changes.
During his Wednesday interview, Wasikowski alluded to "a lot of things" happening within the program between the time the Ducks took the field on Tuesday and the ensuing Wednesday game. He declined to discuss specifics.
"That's a longer answer than I have time for today, but I can just say that there was a lot that happened," Wasikowski said.
Whatever occurred midweek, Wasikowski hopes, will spark his team to life as it aims to bounce back after a disastrous couple of weeks.
The Ducks (29-20, 13-11) will travel to face Arizona State (24-25, 12-12) in Phoenix this weekend, with the first game set to begin Friday at 7 p.m.
The Sun Devils are coming off a series sweep of Utah last weekend and also defeated No. 25 Grand Canyon University on Tuesday.
A big weekend for the Ducks could help them potentially overtake Arizona and UCLA in the Pac-12 standings and climb from fifth place to third. Another series of bad results, though, would drop them behind the sixth-place Sun Devils.
In Wednesday's win, Wasikowski shook up the lineup, inserting reserve freshman catcher Bennett Thompson, third baseman Sam Novitske, and right fielder Bryce Boettcher into the batting order. All three players had strong nights, with Thompson going 3-for-4, Boettcher going 2-for-4, and Novitske going 2-for-5 with a homer.
"We'll put the best lineup out there that we think is gonna win games," Wasikowski said when asked if those changes could be permanent.
It appears that Wasikowski is shaking up his pitching rotation, too.
Following last Sunday's loss at Oregon State, he criticized his starting pitchers for the lack of strikes they threw and said he "wouldn't be surprised if you see different people in different slots moving forward."
True to his word, Wasikowski dropped Friday night starter R.J. Gordon from the rotation and inserted righty Christian Ciuffetelli into the Friday night slot. So far this season, Ciuffetelli is 1-3 with a 2.57 ERA in 21 innings.
Last week's Sunday starter, Jace Sotffal, has been pushed up to the Saturday slot. Last week's Saturday starter, Isaac Ayon has been dropped to the Sunday slot.