Oregon injury updates ahead of showdown at Utah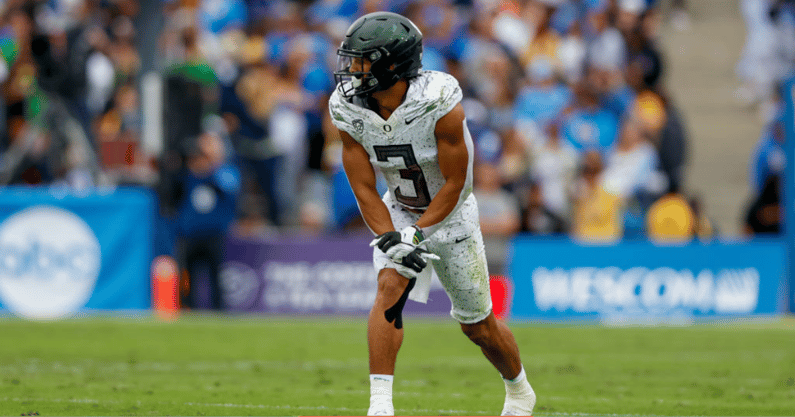 SALT LAKE CITY — Oregon is as healthy as it has been all season but was still dealing with a few key injuries in the leadup to Saturday's matchup with the Utah Utes.
Senior receiver Johnny Johnson III left Oregon's win over Washington State last Saturday with an ankle injury. He was not with the receivers during warmups, and according to his social media posts in the lead-up to the game, he did not make the trip.
The most surprising absence during warmups is that of senior receiver Jaylon Redd. There was no news of him being injured during the week, and he had a heavy workload last weekend against Washington State. But he will not play tonight.
Senior tight end/defensive end DJ Johnson is out for the Ducks with an undisclosed injury. He will miss his second straight game.
Keyon Ware-Hudson was absent during warmups and it appears that he will miss the game, too. He has played sparingly over the past few weeks.
Freshman offensive lineman Jackson Powers-Johnson went through warmups and was snapping to backup quarterback Ty Thompson. He was moving well and looks like he's full go.
Powers-Johnson was in full pads for the Washington State game but did not play. He has been working his way back from a sprained ankle.
Freshman linebacker Jackson LaDuke is in full-pads and was full-go during warmups, too. He's in the same situation as Powers-Johnson, essentially. Both were healthy enough to play in an emergency last weekend, Mario Cristobal said but were held out.
For the second consecutive week, freshman quarterback Robby Ashford is not in uniform. Ashford didn't make the trip, and Bradley Yaffe was the fourth Oregon quarterback on the field during warmups.