Oregon is expecting to add more newcomers when spring ball resumes in April, according to Dan Lanning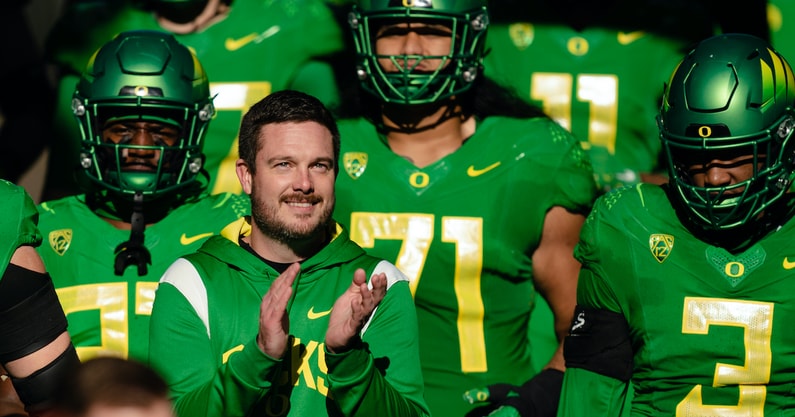 When Oregon kicked off its 2023 spring ball schedule earlier this week, the program welcomed 26 newcomers.
That group featured nine transfers who joined the Ducks during the offseason, as well as 16 early enrollees from the 2023 signing class.
According to head coach Dan Lanning, Oregon will see more newcomers join the program when the Ducks resume practices on April 4 after a 17-day hiatus that coincides with the end of the academic quarter and spring break.
Lanning did not detail which players will be joining the Ducks in April, nor the exact numbers of expected newcomers.
"I don't have an exact number, but we'll see a few more guys come in when the next term starts," Lanning said.
Only one of the Ducks' transfer portal additions has not yet been added to the spring roster — Tysheem Johnson, a defensive back who started for Ole Miss last season.
Additionally, the following '23 signees are not yet listed on the Ducks' spring roster and were not present at the first two spring practices.
WR Jurrion Dickey
CB Rodrick Pleasant
CB Daylen Austin
DL Terrance Green
DL Ahston Porter
DL A'mauri Washington
S Kodi Decambra
LB Jerry Mixon
IOL Lipe Moala
ATH Solomon Davis
IOL Bryce Boulton
CB Collin Gill
Lanning acknowledged the significance of getting signees enrolled early for Winter term but also noted that each respective player's situation is different.
"You want guys here as fast they can," Lanning said. "It's not always going to happen. There are some guys we would love to have here early. But the more you can get here early; it's like having an additional redshirt year for guys who are brand new."
The following newcomers joined the Ducks for the early portion of spring ball and have been present at the Hatfield-Dowlin Complex this week. The aforementioned players' jersey numbers are also listed.
Oregon winter term enrolees
DE Jordan Burch — No. 1
LB Jestin Jacobs — No. 4
WR Traeshon Holden — No. 5
DE Matayo Uiagalelei — No. 10
CB Khyree Jackson — No. 15
WR Tez Johnson — No. 15
QB Austin Novosad — No. 16
TE Kenyon Sadiq — No. 18
DB Tyler Turner — No. 19
RB Dante Dowdell — No. 24
CB Cole Martin — No. 25
RB Jayden Limar — No. 27
DB Evan Williams — No. 33
ILB Connor Soelle — No. 42
OLB Teitum Tuioti — No. 44
P Luke Dunne — No. 45
OL Junior Angilau — No. 54
OLB Jaeden Moore — No. 56
DL Tevita Pome'e — No. 59
OL Ajani Cornelius — No. 65
OL George Silva — No. 71
OL Iapani Laloulu — No. 72
OL Gernorris Wilson — No. 78
WR Ashton Cozart — No. 80
DL Johnny Bowens III — No. 91
DL My'Keil Gardner — No. 93