Oregon lands 15 players on Athlon Sports' preseason All-Pac-12 teams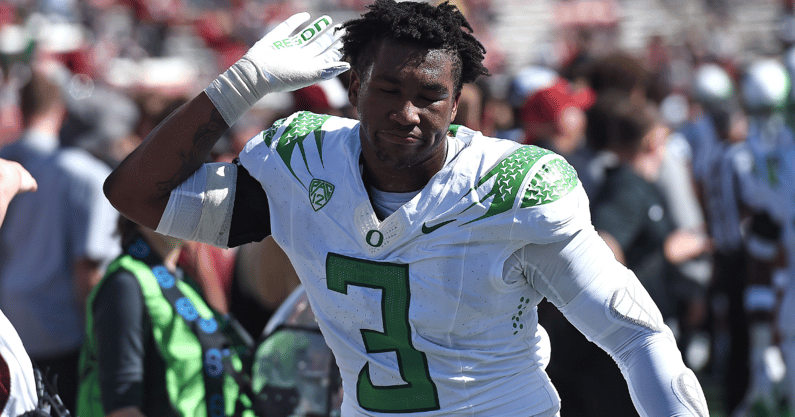 Earlier this week, Athlon Sports published its annual preseason all-conference teams.
When the publication released its all-Pac-12 selection, 15 Oregon players made the cut. Here's a rundown of where the Ducks' players landed across Athlon's four all-conference offensive, defensive, and special teams units.
First Team
RB Bucky Irving
DL Brandon Dorlus
Second Team
WR Troy Franklin
DE Jodan Burch
K Camden Lewis
Third Team
QB Bo Nix
RB Noah Whittington
OL Josh Conerly Jr.
LB Jeffrey Bassa
DB Evan Williams
Fourth Team
TE Terrance Ferguson
OL Marcus Harper II
OL Ajani Cornelius
LB Mase Funa
DB Dontae Manning
Both Burch and Dorlus also landed on Athlon's 2023 preseason All-American team — with each player garnering a fourth-team selection.
USC (19) received the most selections to Athlon's all-Pac-12 teams of any program in the conference.
Oregon was second, while Washington (14), Utah (13), and Oregon State (12) also received double-digit selections.
Three of Oregon's selections — Burch (South Carolina), Williams (Fresno State), and Cornelius (Rhode Island) — joined the Ducks via the transfer portal during the offseason.
Irving and Dorlus were both tabbed as second-team all-conference selections by the Pac-12's coaches last season, while Nix and Irving were honorable mention selections.
During Dan Lanning's first season at the helm of the program in 2022, Oregon went 10-3 and notched a Holiday Bowl win over North Carolina to cap off the year.
The Ducks will kick off their 2023 season on Sept. 2 with a home showdown against Portland State at Autzen Stadium. The following week they will hit the road for a marquee showdown with Texas Tech in Lubbock, which features former Oregon starter Tyler Shough at quarterback.
Oregon will wrap up non-conference play with a Sept. 16 home showdown with Hawaii before hosting Colorado to kick off Pac-12 play on Sept. 23.
Athlon Pac-12 Football 2023 All-Conference Teams
First-Team Offense
QB Caleb Williams, USC
RB Damien Martinez, Oregon State
RB Bucky Irving, Oregon
All-Purpose Travis Hunter, Colorado
WR Rome Odunze, Washington
WR Dorian Singer, USC
WR Jalen McMillan, Washington
TE Brant Kuithe, Utah
C Jake Levengood, Oregon State
OL Sataoa Laumea, Utah
OL Troy Fautanu, Washington
OL Joshua Gray, Oregon State
OL Tailese Fuaga, Oregon State
First-Team Defense
DL Brandon Dorlus, Oregon
DL Bralen Trice, Washington
DL Brennan Jackson, Washington State
DL Junior Tafuna, Utah
LB Laiatu Latu, UCLA
LB Jackson Sirmon, California
LB Karene Reid, Utah
LB Mason Cobb, USC
CB Travis Hunter, Colorado
CB Chau Smith-Wade, Washington State
S Calen Bullock, USC
S Cole Bishop, Utah
First-Team Specialists
K Joshua Karty, Stanford
P Eddie Czaplicki, USC
KR Jimmy Horn, Colorado
PR Anthony Gould, Oregon State