Oregon mid-term evaluation: Quarterback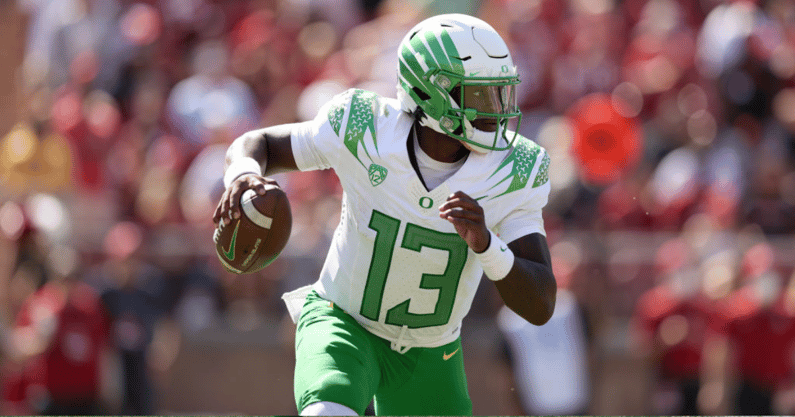 Oregon's bye week brings a chance to assess how it has performed in all facets of the game. The No. 9 Ducks will enter Week 6 with a 4-1 record and have plenty of soul-searching to do coming off their first loss of the season.
Throughout the week, ScoopDuck will be evaluating each Oregon position group and providing: overall grades, players whose stock is rising and stock is falling, and breakout candidates for the rest of the season. To begin this series, we'll take a look at the quarterback position.
Overall grade: C-
The most talked-about aspect of Oregon's season at this point is the quarterback play. There is an ever-growing portion of the fan base that is ready to see a change under center after a few weeks of lackluster performances from senior Anthony Brown.
The numbers say everything you need to know about Brown's performance as a whole in 2021. He is 69-for-123 passing (56 percent) for 950 yards, six touchdowns, and one interception. He has also netted 198 yards on the ground and four touchdowns.
What does all that add up to? According to Pro Football Focus, an extremely sub-par resume. The publication has him listed as the 156th quarterback in the nation out of the 224 quarterbacks it ranked.
PFF rankings aren't exactly everybody's cup of tea, and they don't always tell the full story of a player's performance. In terms of passing efficiency, though, Brown is 67th in the country out of 118 quarterbacks who have met the minimum snap count.
That's not going to get the job done for a team that has national title ambitions.
With all that being said, Brown grades out as a C- here because of what he did in Oregon's upset win over Ohio State. Without him, the Ducks don't win that game. What's been so head-scratching is everything he has done since he left Columbus.
Stock Rising: Ty Thompson
The backup quarterback is often the most popular guy in town. That's no exception in Eugene right now.
In this particular case, it's easy to see why. Thompson is the top quarterback signee in program history and has flashed incredible potential during Oregon's spring game, scrimmages, and the late-game situations when he has seen the field.
If there's ever been a time to make the switch, it's now. Still, recruiting rankings don't always translate to performance at the college level, and there's no telling how ready Thompson is to run a Pac-12 offense at this point.
The largest perceived difference between Brown and Thompson is the true freshman's potential to unlock Oregon's down-field passing game, which is something Brown has not done with any consistency this season.
I still wonder if Brown's failure to move the ball through the air is a product of his own shortcomings, Oregon's offensive scheme, or a combination of both.
Whatever it may be, it seems as though we could be moving closer to Oregon's quarterback heir apparent taking the reins.
Stock falling: Anthony Brown
We won't beat a dead horse on this one. Brown's stock is particularly low at this time because he just played one of the worst games of his college career. But it's been on a steady decline for the past three weeks.
The biggest factor working against him at the moment might be his completion percentage. Oregon offensive coordinator Joe Moorhead said last week he likes his quarterbacks to throw at a 65-percent clip. Brown is nowhere near that.
It would be one thing if he was consistently swinging for the fences and taking shots downfield. But he's not.
Breakout candidate: Jay Butterfield
There's an assumption that if Mario Cristobal and Moorhead opt for a quarterback change, Thompson will absolutely be the guy. But I wouldn't rule out Butterfield.
Thompson is the backup quarterback, and he won that job outright during training camp. But Thompson and Butterfield split the garbage-time reps against Stony Brook, and I don't think that would have happened if the redshirt freshman was completely on the outside looking in.
Butterfield is a sensational prospect in his own right. He's the sixth-best quarterback signee to ever come to Oregon, and if Thompson weren't around, he would probably be receiving plenty more hype.
The coaching staff seems to really like Butterfield, and he has flashed some elite arm talent in the times he's seen the field.
Don't get me wrong; if Oregon makes a quarterback change, I believe Thompson will be the guy. But I wouldn't be shocked if Butterfield plays his way into the conversation. If the Ducks do make the switch, he would likely become the backup and would have a chance to audition for next year's starting job.