Oregon players of the game: Defense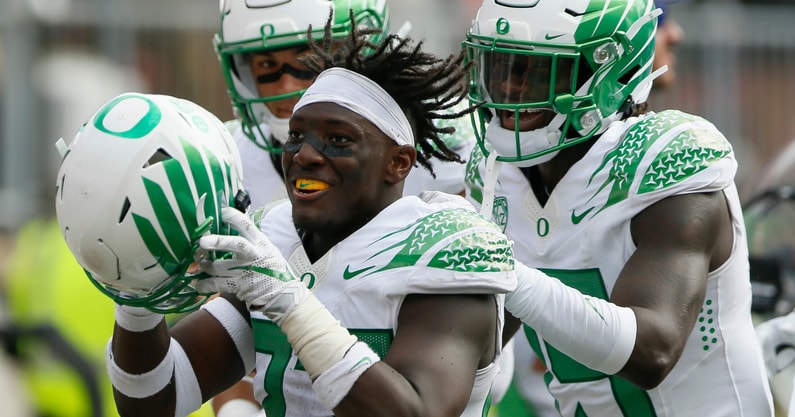 In a normal week, Kayvon Thibodeaux, Justin Flowe and Dru Mathis would all be candidates to show up on this list. On Saturday, however, the Ducks were missing all three and still managed to hold strong against an explosive Ohio State offense.
It was very much a bend, don't break performance from Oregon. They yielded 612 yards of total offense and 484 through the air. And yet, the Ducks slammed the door on the Buckeyes when it mattered most and held them scoreless over their final three drives.
There's a seemingly endless list of worthwhile candidates for this week's entry, but here are the three who delivered the most substantial performances in Week 2.
Verone McKinley III
With Thibodeaux sidelined, the Ducks desperately need a playmaker to take hold of the game. McKinley did just that. He finished the day with six tackles, a forced fumble, two pass break-ups, and most importantly, a late-game interception that derailed Ohio State's comeback hopes.
McKinley has earned a reputation as a big-game player throughout his career. On Saturday, he played one of this best games as a Duck and helped guide a young Duck defense.
Oregon's win in Columbus may just be the beginning a magical season. If that does turn out to be the case, McKinley's fourth-quarter interception will be one of the most memorable moments from the campaign.
He also delivered the Tweet of the day afterward.
Noah Sewell
Midway through Saturday's game, Oregon's injury issues at inside linebacker were bordering on disastrous. The Ducks were missing Flowe and Mathis, their two primary weak-side linebacker, all day. Later in the game, Keith Brown left with a cramp.
Noah Sewell is always going to show up on the big stage. But on Saturday, Oregon's success was even more dependent on him than usual. When they needed him most, the freshman star came up huge for the Ducks.
He finished the day with seven tackles. The most significant of those came near the end of the second half when he stuffed an Ohio State run on 4th-and-2 to give the ball back to Oregon's offense.
Bennett Williams
Oregon defense coordinator Tim DeRuyter was forced to get creative with his scheme against Ohio State. Oftentimes, Sewell and Mase Funa were the only linebackers on the field. But Bennett Williams made sure there was absolutely no space for the Buckeyes to operate in.
Williams finished with eight tackles, second among Oregon players, and he also added a tackle for loss. The junior safety was everywhere for the Ducks in Columbus.
After the game, Williams Tweeted that Saturday's win wasn't the first time he had played at Ohio Stadium. This time around, he made the absolute most of the opportunity.