Oregon running back Trey Benson enters transfer portal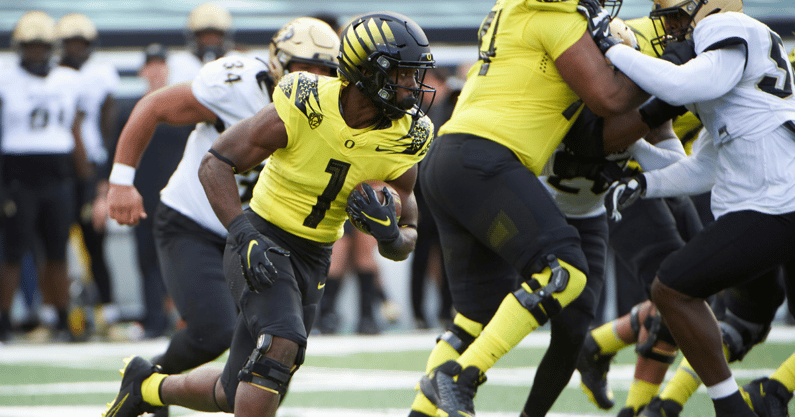 For the second time in as many days, an Oregon running back has entered the transfer portal.
Oregon redshirt freshman running back Trey Benson has elected to enter the portal, On3's Matt Zenitz reported Wednesday evening.
The news of Benson's decision comes one day after another Duck running back, Sean Dollars, also opted to enter the portal.
Benson played in nine games for the Ducks in 2021 and ran for 22 yards and one touchdown on six carries. He suffered a major knee injury in December of 2020 and spent much of the offseason and preseason camp rehabbing.
A former 4-star recruit in the class of 2020, Benson was On3's No. 346 overall prospect and No. 6 running back. The Greenville, Miss., native also held offers from Notre Dame, Florida State, and Penn State, among many others.
If Benson and Dollars do indeed transfer away from the program, a position that was loaded with talent 24 hours ago could look much thinner for the Ducks.
Byron Cardwell and Seven McGee are both scholarship running backs who are set to return for the Ducks next season. Travis Dye and CJ Verdell, both of whom have started and excelled for the Ducks throughout their careers, could also return.
Dye and Verdell have until Jan. 17 to decide if they will enter the NFL Draft. Neither player has publicly announced a decision on their respective future at this point.