Oregon running back CJ Verdell will miss remainder of season with leg injury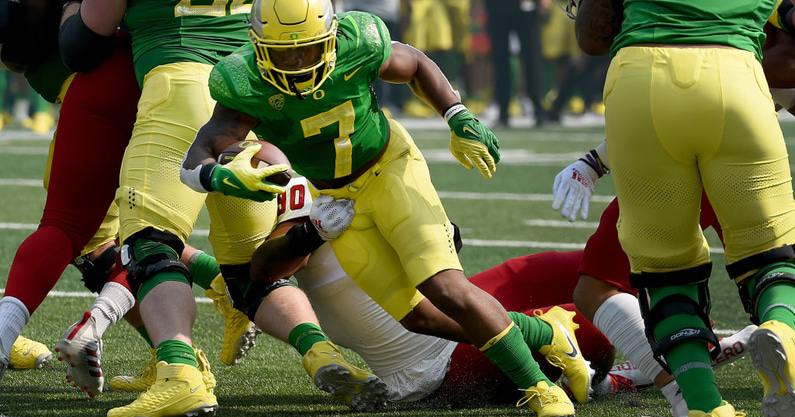 Oregon's injury situation took another turn for the worse this week.
On Thursday, Oregon coach Mario Cristobal said junior running back CJ Verdell will miss the remainder of the season due to a leg injury he suffered at Stanford last weekend.
"CJ will be done for the year," Oregon coach Mario Cristobal said when asked about the running back's status Thursday.
Verdell is Oregon's lead ball-carrier and launched himself into the Heisman conversation after a sensational performance at Ohio State in Week 2. In five games this season, Verdell ran for 406 yards and six touchdowns on 78 carries. He also caught eight passes for 74 yards and a touchdown.
With Verdell out for the season, Oregon will now lean on Travis Dye to be its lead ball-carrier.
"You wanna play the hot hand, and Travis is a workhorse, too," Cristobal said. "He has proven that in a lot of different ways."
Trey Benson, Seven McGee, and Byron Cardwell will likely combine to fill in for Verdell behind Dye, although it isn't clear yet if any of the three freshmen have established themselves as the clear No. 2 option.
"When you're a young back, you do some things naturally well and then you continue to improve on other things," Cristobal said when asked about the trio of freshmen. "Those guys are improving themselves at being really good all-around backs. They're explosive football players and they're hard workers.
"They're very resilient and we get after them really hard. We have faith that they're going to be really good and help us win."