Oregon starts fast, struggles late in ugly loss to Colorado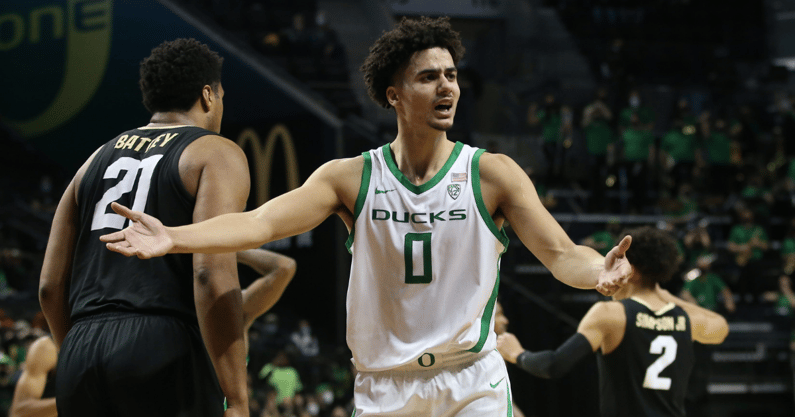 For about 10 minutes Tuesday evening, it appeared Oregon was headed for another blowout win.
Just 48 hours after they ran Washington off the floor, the Ducks flew out of the gates against visiting Colorado and looked like they had carried all that momentum over from Sunday.
Then, the easy baskets dried up, Colorado buckled down, and the Ducks lost the defensive spark that had been so key in recent weeks.
Over the next 30 minutes, Oregon never found a solution and ultimately fell 82-78 to the Buffs in a head-scratching loss that brought its six-game winning streak to a grinding halt.
"You score 78 at home, you should win," Oregon coach Dana Altman said. "I'm just really disappointed — we got outworked."
Quincy Guerrier led Oregon with a season-high 22 points on 8-of-15 shooting and a team-best six rebounds. But the Ducks shot just 44.8 percent from the field and 30 percent from three as a team in the second half and were outscored 45-36 over the final 20 minutes.
"The ball-movement was poor. Our spacing was poor," Altman said. "It looked like we were out of gas. So we either gotta get in better shape. … But our ball movement there really went down. I thought that really hurt us."
Colorado got a massive contribution out of forward Jabari Walker, who finished with 24 points and 11 rebounds. Keeshawn Barthelemy added 19 for the Buffs, and Tristan de Silva scored 15.
On the Ducks' first possession of the night, De'Vion Harmon worked deep into the shot clock before burying a long three-pointer. Next time down the floor, Will Richardson drained an even longer three.
That opened up the floodgates for the Ducks to start the game on a 20-5 run over the first six minutes. At that point, a win seemed like a formality; Oregon was shooting the lights out, and the Buffs had no answer.
But Colorado, which was coming off two consecutive home losses to the Los Angeles schools, managed to stop the bleeding and stay in the game long enough for Oregon to cool down.
The Buffs trimmed the Ducks' lead to five by halftime and took their first lead of the game with 8:30 to go after an Evan Battey three-pointer.
One minute later, they had pushed their lead to 69-63 and forced Altman to take a timeout. The Ducks responded well and cut the lead to two from there.
That was at close as they would get, though. Guerrier and Harmon each buried threes in the final two minutes, but the game ultimately devolved into a sloppy affair for both teams, and Colorado managed to do just enough to win.
Oregon's top scorer, Will Richardson, poured in 11 points in the first half and 17 on the night. But the senior guard did not attempt a field goal after the 8:15 mark in the second half, and the Ducks' offense was stagnant for many of their final possessions.
"He ran out of gas a little bit. … He had a couple of times he penetrated but didn't make a play," Altman said of Richardson.
With the loss, Oregon drops to 12-7 on the season and 6-3 in Pac-12 play. On Saturday, they will welcome Oregon State (3-14, 1-6) to Matthew Knight Arena for what is essentially a must-win game.
"You've got to win at home," Altman said. "Colorado is a good basketball team, but they haven't been able to beat the better teams in our league. So this damaged us; our guys are, I hope, smart enough to figure out Saturday is a big game for us.
"(Oregon State) have had all week to prepare, and they'll probably have a lot of different things they can throw at us. We're really going to have to be ready to play come Saturday."