Oregon updated jersey numbers for spring ball 2023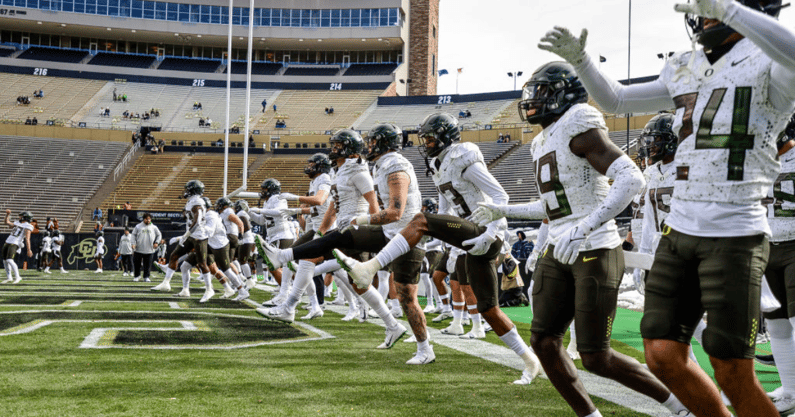 The Oregon Ducks were back on the Hatfield-Dowlin Complex Turf Wednesday afternoon for the program's first spring practice. That, of course, means a freshly-updated roster that reflects the plethora of offseason additions.
In total, 26 scholarship newcomers have joined the Ducks for spring ball — 10 via the transfer portal, and 16 via the 2023 signing class.
"Really good day one," Oregon coach Dan Lanning said during his Thursday media availability. "Haven't been a lot around a lot of spring practices that weren't good day one. Everybody has juice and energy — a lot of enthusiasm. Practice was well organized, guys were running to the right locations and with a lot of new bodies you hope that's the expectation. Guys are playing hard but we don't really have pads on either.
"So this is, it's not real football yet in my mind, but guys are definitely turning in the right direction. See some new guys stepping up to be leaders which is positive. And I'm really excited about the direction we're headed."
With an abundance of new faces populating the Oregon roster, here's a rundown of which jersey numbers each of the Ducks' first-year players will be wearing during the spring — as well as an update on which returning players have changed jersey numbers.
It's worth noting that a handful of signees from Oregon's '23 class — including 5-star receiver Jurrion Dickey and 4-star cornerbacks Rodrick Pleasant and Daylen Austin — have not yet joined the program for spring ball.
Returning Oregon players who have changed jersey numbers
LB Jeffrey Bassa — formerly No. 33, now No. 2
DB Jamal Hill — formerly No. 19, now No. 9
LS Luke Basso — formerly No. 57, now No. 43
Jersey numbers for Oregon newcomers
DE Jordan Burch — No. 1
LB Jestin Jacobs — No. 4
WR Traeshon Holden — No. 5
DE Matayo Uiagalelei — No. 10
CB Khyree Jackson — No. 15
WR Tez Johnson — No. 15
QB Austin Novosad — No. 16
TE Kenyon Sadiq — No. 18
DB Tyler Turner — No. 19
RB Dante Dowdell — No. 24
CB Cole Martin — No. 25
RB Jayden Limar — No. 27
DB Evan Williams — No. 33
ILB Connor Soelle — No. 42
OLB Teitum Tuioti — No. 44
P Luke Dunne — No. 45
OL Junior Angilau — No. 54
OLB Jaeden Moore — No. 56
DL Tevita Pome'e — No. 59
OL Ajani Cornelius — No. 65
OL George Silva — No. 71
OL Iapani Laloulu — No. 72
OL Gernorris Wilson — No. 78
WR Ashton Cozart — No. 80
DL Johnny Bowens III — No. 91
DL My'Keil Gardner — No. 93