Oregon women's basketball awaiting word on status of two transfers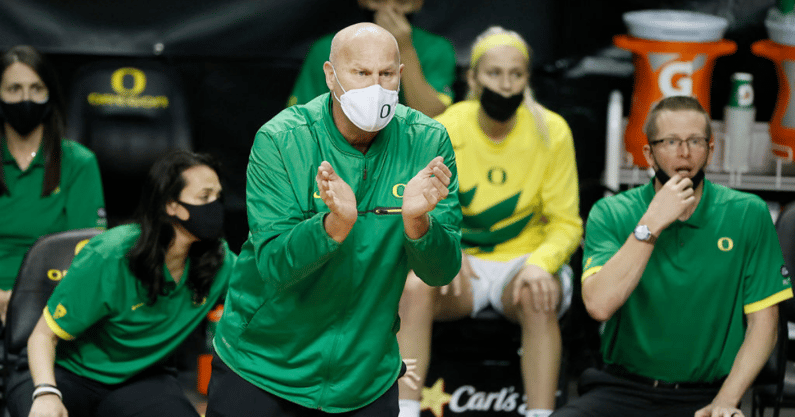 There's plenty of buzz surrounding the Ducks after a strong 2020-21 campaign.
Oregon has a stellar collection of incoming talent but is hoping for some good news in the coming weeks that could make its prospects for the upcoming season even brighter.
Last spring, Oregon announced that forwards Shannon Dufficy and Taylor Hosendove had both transferred into the program. Dufficy arrived as a senior grad transfer from Missouri, and Hosendove came to Oregon as a senior with two years of eligibility.
Both players are listed on Oregon's roster, but because they both had transferred previously in their careers, their respective hopes of playing immediately are in limbo at the moment.
Oregon coach Kelly Graves said Thursday there has not been a determination yet on the eligibility of Hosendove, who may have a more difficult path to immediate clearance since she is not a grad transfer.
"All the paperwork has been submitted and now it's in the hands of the NCAA," Graves said. "Were hopeful in her case, but haven't heard anything yet. Same with Shannon — I think Shannon being a graduate student and a grad transfer, I wouldn't say it's rubber-stamped by any stretch, but I think we have a much better case there."
A 6-foot-1 forward, Hosendove averaged 12.5 points and 8.8 rebounds per game for Georgia State in 2020-21. She shot 46.9 percent from the floor and 34.5 percent from three-point range. She also led the Panthers with 33 steals and started 23 of their 24 games.
A 6-foot-2 forward, Dufficy played the 2020-21 season at Missouri. There, she averaged 6.5 points and 4.5 rebounds per game. Before joining Missouri, Dufficy spent three seasons with Utah State. She sat out the 2019-20 season due to NCAA transfer rules.