Ernie Kent headlines Oregon 2022 hall of fame class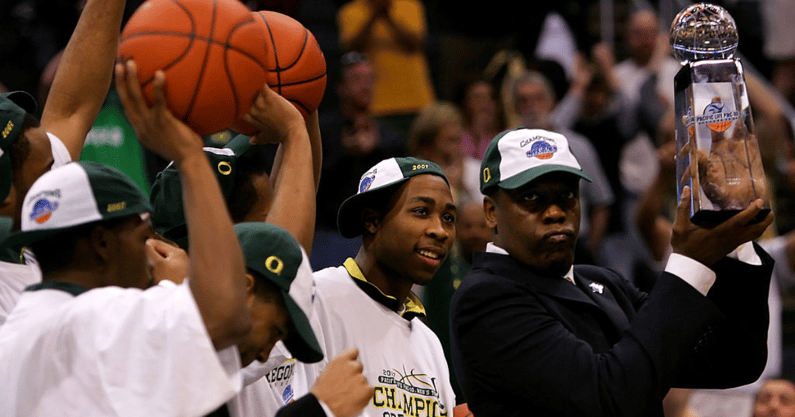 Oregon has announced its 2022 Hall of Fame class, and it features no shortage of legendary figures from throughout the school's history.
In an official press release that was sent out Tuesday, Oregon unveiled five members of its 31st hall of fame class.
"The 2022 honorees will officially join the exclusive club of 223 athletes and 29 teams previously selected at the Hall of Fame banquet that will be held in conjunction with the Sept. 17 BYU football game," UO announced in the release.
Here's a rundown of who will be inducted into Oregon's hall of fame in 2022.
Ernie Kent
During his 13-year tenure as the Oregon men's head basketball coach from 1997-2010, Ernie Kent became the winningest coach in program history.
He went 235-174 during his time in Eugene and led the Ducks to five NCAA tournament appearances and two trips to the elite eight. The Duck legends he coached include Luke Jackson, Luke Ridnour, Aaron Brooks, Fred Jones, Malik Hairston, and countless others.
Kent led the Ducks to a pair of Pac-10 tournament titles and one conference regular-season title.
Daniel Miernicki
Daniel Miernicki, who competed for Oregon from 2009-2012, is one of the more accomplished men's golfers in UO history and is the only four-time all-conference selection in program history.
He led the Ducks to the national semifinals twice during his Oregon career and owns the best round in program history; while competing at the Amer Ari Invitational in the fall of 2010, he shot a 10-under 62 in the opening round and became the only Duck to ever go 10-under.
Miernicki also holds the UO record for most birdies in a career with 563 and his career scoring average of 71.40 ranks third all-time.
Daria Panova
Daria Panova is the first conference individual champion in program history and is now the first women's tennis player to be elected to the UO Hall of Fame. 
Her career with the Ducks spanned from 2002-2005 during which she posted a record of 94 wins and 50 losses. She still holds the school record for most singles victories.
Panova became the first Oregon player to ever win the 2003 Pac-10 Tournament individual championship. During the same season, she advanced to the third round of the NCAA Tournament in singles play and to the quarterfinals in doubles with Courtney Nagle.
Brianne Theisen-Eaton
Former Oregon track and field star Brianne Theisen-Eaton is one of the more decorated athletes in the collegiate history of the sport.
In 2012, she became just the fourth collegiate woman ever to win seven NCAA titles. Her Oregon tenure spanned from 2009-2012, and by the time it concluded, she held five school records.
In her final meet as a Duck, the 2012 NCAA Championships, she broke the Pac-12 heptathlon record that was previously held by UCLA legend Jackie Joyner-Kersee. Theisen-Eaton's outdoor heptathlon personal-best of 6,440 points is still a school record, as is her indoor heptathlon score of 4,555 points.
2010 football team
Oregon's 2010 football team was the first in program history to play in a BCS National Championship Game.
The Ducks went 12-1 and set 30 school records before falling to Auburn in the national title game by a score of 22-19. Chip Kelly earned Eddie Robinson National Coach of the Year honors while leading the Ducks to their first-ever undefeated regular season.
The 2010 Oregon team featured program legends LaMichael James, Cliff Harris, Kenjon Barner, Casey Matthews, John Boyett, and countless others.