Oregon's interior defensive line taking shape, bolstered by incoming transfers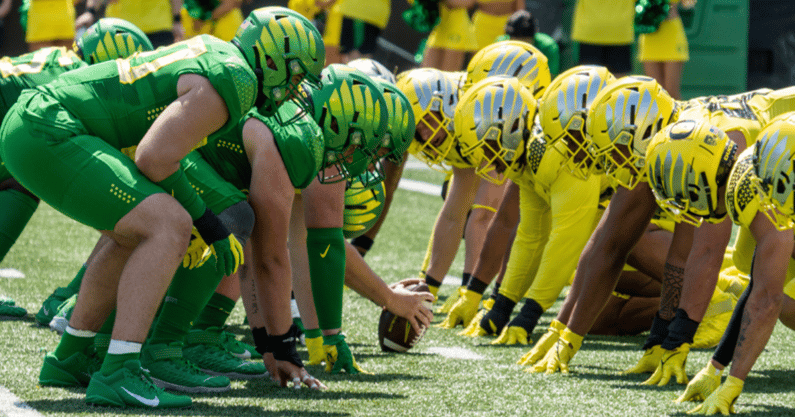 Toward the end of last season, and even during spring ball, depth along the interior line was an area of concern for Oregon.
The Ducks' three starters along the defensive line — Popo Aumavae, Brandon Dorlus, and Keyon Ware-Hudson — missed spring ball while recovering from their respective shoulder injuries. Oregon's depth along the interior was stretched so thin in April that sophomore offensive lineman Jackson Powers-Johnson was used as a two-way player.
Fast-forward three months later, though, and any concerns about the Ducks' defensive front are long gone. Aumavae, Dorlus, and Ware-Hudson are all healthy and full-go to begin fall camp. The return of those three, along with some reinforcements via the transfer portal, has provided Oregon with as much defensive line depth as it has had in a long, long time.
"Really excited to have the individuals we have," Oregon defensive coordinator Tosh Lupoi said on Saturday. "To be honest, and it is always like this at this level of play, it's difficult to assess those guys with no pads on. Sometimes guys will look a lot better, like, in underwear Olympics. And we'll find out probably a lot more stating tomorrow when. We're gonna have some pads on, I believe, so we'll find out up front what we're really made of."
Last season, Dorlus and Aumavae were two of the top defensive lineman in the league. Ware-Hudson was in the midst of a breakout season before a torn meniscus ended his year in November. But the depth behind those three never quite materialized.
Kristian Williams and Jayon Jones played the most snaps of any Oregon defensive linemen aside from Aumavae and Dorlus, but both players hit the transfer portal during the offseason.
The Ducks shored up the interior by adding Taki Taimani from Washington, who had a very good 2021 season in Seattle before joining the Ducks for spring ball. They also added Casey Rogers and Jordon Riley, both of whom played under first-year defensive line coach Tony Tuioti at Nebraska.
Since joining the program in the summer, Rogers and Riley have made an immediate impact.
"Excited," Lupoi said when asked about the additions of Riley and Rogers. "Mostly, too, about the additions to our culture with those guys. Those guys have done everything we've asked of them from a nutrition standpoint, what they're doing in the weight room, on and off the field, and now on the field.
"Now, again, we'll find out a lot more as we move forward in camp. Hard to assess right now where we're at from that standpoint, but definitely love having them as people and having them as part of this program. Really excited to be coaching them."
Incoming freshman Ben Roberts and Sir Mells have also drawn praise early in their Oregon careers. Lupoi was asked Sunday if he would consider leaning on any true freshman in 2022.
"It's gonna come down to who can handle it mentally and who the best on the field is," Lupoi said. "So, if there's a younger guy that can offer us an advantage, he's gonna play for us."
The player who could be key to dictating just how successful Oregon's defensive line is this season, though, is Dorlus.
"He offers us some versatility," Lupoi said. "So he's someone that we can tax, if he can handle it mentally, in multiple spots on our defense, because of that versatility. He's a bigger guy who can move well."
Dorlus has been tabbed by several publications as a third-team preseason All-American and has set some lofty goals for himself as he becomes one of the focal points of Oregon's defense. Dorlus said he slimmed down to 285 pounds in the offseason and is feeling quicker and more explosive than he has at any point in his career.
"He's worked for it. I think he's got definitely tunnel vision focus on what he wants to do this season," Lupoi said. "The challenge is doing it one day at a time. I know his sights are set on some really big goals and that's our job, along with him, to really understand the importance of attacking it on a daily basis."