Oregon's latest roster update reflects notable height, weight changes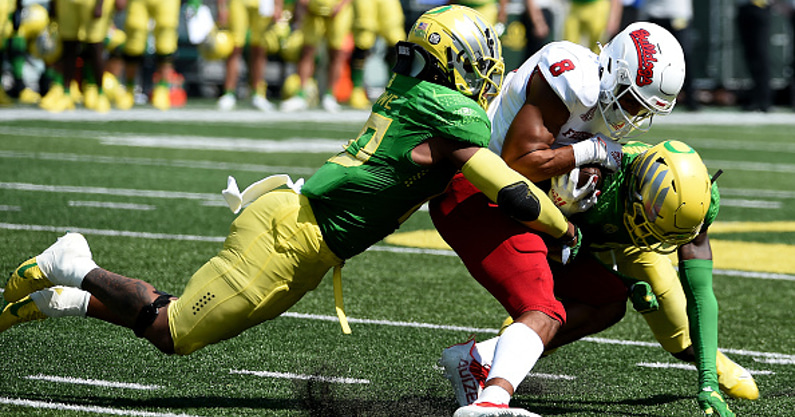 On Friday, Oregon updated its roster to include the height and weight of its players, marking the first time this fall it has done so. For a program that features an entirely new coaching and strength and conditioning staff, the newly-added weight listings are notable for a few reasons.
The Ducks feature a number of players who have worked their way back from offseason injuries and others who are in the process of changing positions or roles.
Here are a few takeaways from Oregon's updated roster, and what some of the Ducks' updated weight listings could mean moving forward.
Justin Flowe's continued progression
When Justin Flowe arrived for fall camp in August 2020, the 5-star linebacker was listed at 246 pounds. Two years — and two season-ending injuries later — Oregon's star linebacker is now 220 pounds.
For some Duck fans, that might raise alarm bells. After all, part of what made Flowe an elite high school prospect was his strength and physicality. But as he steps into Dan Lanning's defense as the starting Mac linebacker, a slimmed-down Flowe could mean big things for the Ducks in 2022.
Ducks' defensive coordinator Tosh Lupoi said Flowe changed his body during the offseason in order to refine his coverage skills. Now, he's playing around the same size that Butkus Award-winning Mac linebacker Nakobe Dean was for Lanning's Georgia defense when it captured the national title last season.
"I think (Flowe) has challenged himself," Lupoi said. "If you just look at his body and his body weight, he's really committed to that. He's a guy who can move from point A to point B with a lot of speed and violence. He's a guy that has some versatility to his game, really, as well. We put a lot on that position at times, and what he needs to do from a coverage standpoint. He's done a nice job of answering those for us."
"Skinnies" no more
Oregon's group of young, talented wide receivers self-anointed themselves "the skinnies" last season.
Troy Franklin and Dont'e Thornton both impressed as true freshmen during last year's fall camp and contended for playing time right away, despite both being relatively undersized. Franklin was listed at 6-foot-2, 169 pounds last August, and Thornton was 6-foot-5, 197 pounds.
Now, Franklin is all the way up to 178, while Thornton is 199. Additionally, sophomore slot receiver Kris Hutson has added four pounds after noting during spring ball that one of his main goals for the offseason was to bulk up.
Newcomer Caleb Chapman, who played at Texas A&M last season, is up to 218 pounds after being listed at 200 by the Aggies last season.
Running back bulk
The Oregon player who saw the most significant weight gain between August 2021 and now is sophomore running back Sean Dollars. Standing 5-foot-8, Dollars is listed at 199 pounds after coming in at 171 last season. That is due almost entirely to the fact that he suffered a major knee injury at the end of the 2020 season that affected his ability to work out during the year that followed.
Still, it's a positive sign nonetheless to see Dollars get back to a playing weight that was really effective for him early in his career.
He isn't the only Duck running back who has added some bulk. Incoming transfers Noah Whittington and Mar'Keise Irving have both gained four pounds since last year, and true freshman Jordan James has added five pounds after being listed at 205 as a high school recruit.
Defensive line overhaul
Many of Oregon's interior defensive linemen are noticeably smaller than they were last season. In most cases, that is by design.
Nose tackle Taki Taimani was listed at 330 while playing at Washington last year and said he was close to 350 when he arrived in Eugene. Now, he is down to 315 and said he feels stronger than he has at any point in his career.
Additionally, Macael Afaese has dropped from 282 pounds to 259, Casey Rogers dropped from 295 to 285, and Keyon Ware-Hudson dropped from 288 to 281.
"It's just really their mindset — coming into camp prepared," Oregon defensive line coach Tony Tuioti said. "Having experienced guys, veteran guys, they know what they have to do to make sure they're at peak performance."