Oregon's Quincy Guerrier announces he will return for senior season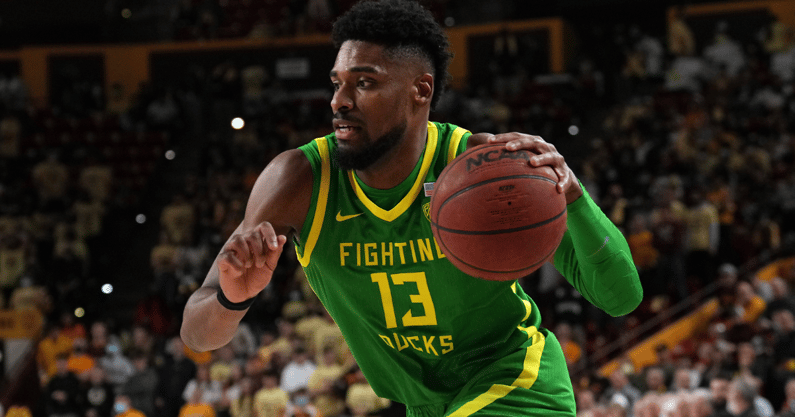 Oregon forward Quincy Guerrier will be back in Eugene next season.
Guerrier, who started 35 games for the Ducks last year, announced on Twitter on Friday that he is returning for the 2022-23 campaign.
"After getting the opportunity to go through the NBA draft process, I have decided to return to the University of Oregon," Guerrier wrote. "It was an incredible learning experience. I am excited to work with my teammates and help lead us to a Championship – Go Ducks!"
Last season was Guerrier's first as a Duck after he transferred in following two seasons at Syracuse. He was an integral part of Dana Altman's squad and averaged 10.1 points and 5.3 rebounds per game on 42 percent shooting.
Guerrier joins N'Faly Dante among Oregon starters who have announced that they will return for the Ducks next season.
In April, Guerrier and Ducks' point guard Will Richardson both filed as early candidates for the NBA Draft. Richardson now has until June 1 to decide if he will keep his name in the draft, or return to Eugene.
Jacob Young and De'Vion Harmon both started at guard for the Ducks for much of last season, but Young has exhausted his eligibility, and Harmon entered the transfer portal last month and has since committed to Texas Tech.
Oregon has also added commitments from Colorado transfer Keeshawn Barthelemy and Jermaine Couisnard.