Recent roster additions display Oregon's focus on special teams improvement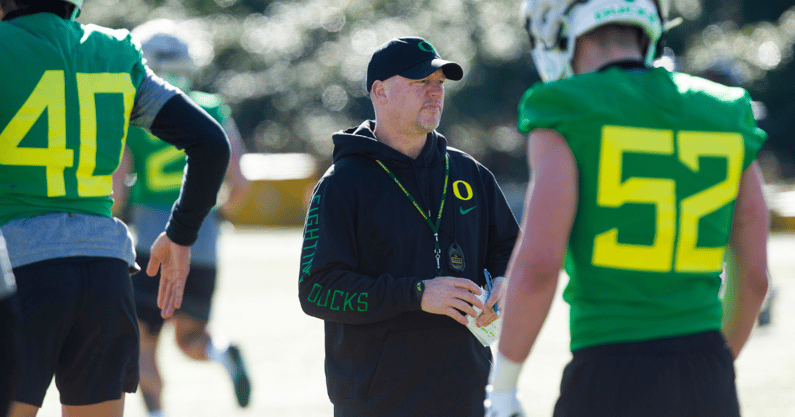 Oregon made no shortage of splashy additions this past week.
On Sunday, the Ducks stole the headlines by flipping Oklahoma commit and 4-star receiver Ashton Cozart. On Friday, they landed a commitment from Caleb Chapman, a former 4-star recruit who was previously at Texas A&M.
Dan Lanning, Junior Adams, and the rest of Oregon's staff have made some major moves on the recruiting trail during their brief time in Eugene, and there's no reason to expect that to stop anytime soon.
But what shouldn't be overlooked is a flurry of less-heralded additions earlier in the week that signifies the wholesale approach that Oregon is taking toward improvement.
In a span of four days, punter Ross James, punter Adam Barry, and kickoff specialist Alex Bales all announced that they have committed to the Ducks and special teams coach Joe Lorig.
While the timing of the additions might seem puzzling to some, they are very much in line with Lorig's blueprint for rapidly improving the Ducks' special teams' performance.
When Lorig first arrived at Oregon, his pitch to his players was simple. During a meeting, he showed their national ranking in terms of several special teams' statistical categories during recent seasons.
"(Oregon) has been 115th in the country, 117th in the country, and 109th in the country," Lorig said during a media availability on April 14. "When you show that and say, 'Well guys, you were 12-2 that year; maybe if you're top-15, you would have been 13-1."
Of course, those subpar results aren't solely due to Oregon's specialists.
Penalties and a general lack of discipline on the special teams hindered the Ducks' performance under Mario Cristobal. During spring ball, Lorig and head coach Dan Lanning made a concerted effort to ensure that isn't a problem in the future.
"The whole foundation of our special teams comes with two goals," Lorig said. "Number one: own the ball. And number two: no penalties, which might sound like a really simple thing. But literally, that's all I care about. I just want to own the football. I don't care if we're last in the country in punt return; I could care less.
"We won't be. I think my track record proves that. But the most important thing is to get the ball back to our offense and not hurt yourself with penalties."
Now, bringing in two new punters and an additional placekicker won't necessarily improve the Ducks overnight in terms of what Lorig is describing.
But Lanning wants competition at every single position, and the additions of James, Barry, and Bales will provide exactly that.
None of the three are on scholarship, but all three will have the chance to win a starting job.
Camden Lewis, last year's starting placekicker, will be back with the Ducks in 2022. During spring ball, Lorig was complimentary of Lewis but also hinted that competition could be coming after former Oregon kicker Henry Katleman hit the transfer portal in December.
"I think he's doing a good job," Lorig said of Lewis. "I think we need some more competition for him. We're going to bring in some competition. I think just like at every position when you have someone that's pushing you, that could possibly beat you out, it's motivating."
In January, Oregon also added former Washington State kicker Andrew Boyle on full scholarship — although he was not with the team during spring ball.
At punter, Tom Snee had a bright 2021 season and was expected to return as Oregon's starter in 2022. But he wasn't with the team during spring ball either, and Lanning confirmed that he was "taking care of some issues for (himself)" at that time.
There's still been no official announcement on Snee's status with the team, and the additions of James and Barry at punter ensure that there will be competition regardless of whether Snee returns.
Special teams reinforcements will never be the flashiest additions a team makes, of course.
But the three signings the Ducks made last week in that department could prove to be significant moving forward for a program that is aiming to improve in every possible way.