Oregon's Ty Thompson invited to 2022 Manning Passing Academy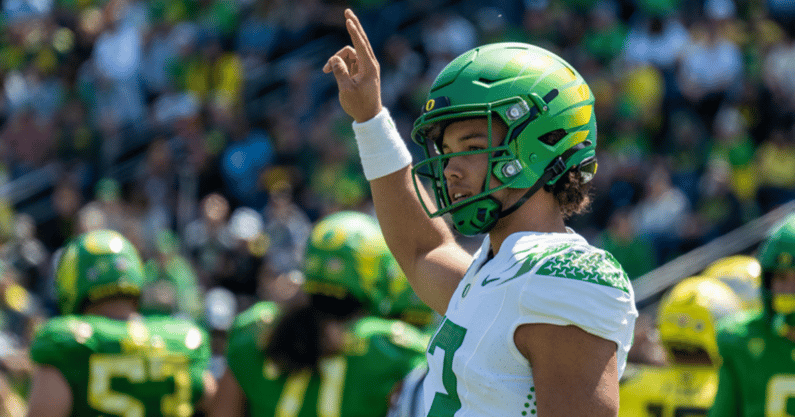 Oregon quarterback Ty Thompson will be part of an elite group this weekend.
Thompson has been selected as one of 45 attendees at the prestigious 2022 Manning Passing Academy, which begins Thursday at Nicholls State University in Thibodaux, Louisiana. Throughout its 26-year history, the Manning Passing Academy has attracted the nation's top quarterbacks to serve as counselors and participate in drills and skill competitions.
Thompson played in three games for the Ducks last season and served as their backup quarterback to Anthony Brown before ultimately taking a redshirt. He finished the year 7-for-15 for 87 yards with two touchdowns and an interception.
The top-rated quarterback signee in Oregon history, Thompson came to Oregon as the No. 31 overall player in the class of 2021 and No. 6 quarterback, according to the On3 Consensus. After narrowly losing out on the Ducks' starting quarterback spot last season, Thompson is now competing with Bo Nix and Jay Butterfield to start in 2022.
Following Oregon's April 23 spring game, Thompson was asked about participating in the Manning Passing Academy and what his summer schedule will look like.
"Continue to improve; gotta take my coaching and get my medicine from the doctor," Thompson said. "Make sure I can be the best version of Ty Thompson come fall."
Former Oregon starter Tyler Shough, now at Texas Tech, will also be a counselor at the Manning Academy.
The group is headlined by Alabama star Bryce Young, who won the 2021 Heismann Trophy. Ohio State standout and Heismann runner-up C.J. Stroud will also be there, as will Kentucky's Will Levis.
Thompson Arizona's Jayden de Laura, and Utah's Cam Rising, are the only Pac-12 quarterbacks who will be in attendance.
The full list of 2022 Manning Passing Academy attendees is below:
Taylor Powell, Eastern Michigan
Spencer Rattler, South Carolina
Will Rogers, Mississippi State
Justin Sliwoski, Saint Francis (Pa.)
Liam Thompson, Wabash
Tyson Bagent, Shepherd
Jarrett Doege, Western Kentucky
Kohen Granier, Nicholls State
Layne Hatcher, Texas State
Gunnar Holmberg, Florida International
Nick Howard, Dartmouth
Kyle King, Mary Hardin-Baylor