Pair of Oregon men's basketball signees named McDonald's All-Americans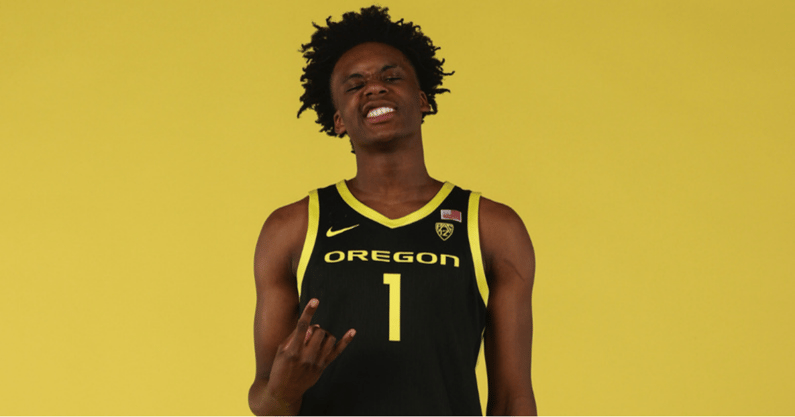 Oregon men's basketball signees Kwame Evans Jr. and Mookie Cook are officially McDonald's All-Americans.
The pair of highly-touted forwards were each named to the prestigious event when the East and West rosters were revealed on Tuesday.
Evans, a 6-foot-10, 190-pound power forward, is the No. 12 overall player in the class of 2023 and the No. 3 player at his position, according to the On3 Consensus.
Cook, a 6-foot-7 small forward, is the No. 23 overall prospect and the No. 6 player at his position, according to the On3 Consensus.
Oregon currently boasts the No. 6 class in the country. Along with Evans Jr. and Cook, the Ducks have signed West Linn (Ore.) 4-star point guard Jackson Shelstad.
Current Oregon big men Nate Bittle and Kel'el Ware were each named McDonald's All-Americans before joining the Ducks.
Evans and Cook become the 10th and 11 Ducks to be selected in the history of the All-Star game.
They join Ware (2022), Bittle (2021), Bol and King (2018), Troy Brown Jr. (2017), Michael Dunigan (2008), Malik Hairston (2004), Aaron Brooks (2003), and Luke Ridnour (2000).
The 2023 McDonald's All-American Rosters
East
Xavier Booker, Indianapolis (IN) Cathedral (Michigan State)
Aaron Bradshaw, Camden (NJ) High (Kentucky)
Matas Buzelis, Bel Aire (KS) Sunrise Chrstian (G-League)
Stephon Castle, Covington (GA) Newton (UConn)
Justin Edwards, Philadelphia (PA) Imhotep (Kentucky)
Kwame Evans, Jr., Montverde (FL) Academy (Oregon)
Aden Holloway, Napa (CA) Prolific Prep (Auburn)
Elmarko Jackson, South Kent (CT) South Kent Academy (Kansas)
Mackenzie Mgbako, New Rochelle (NJ) Roselle Catholic (Duke)
Sean Stewart, Montverde (FL) Academy (Duke)
DJ Wagner, Camden (NJ) High (Kentucky)
Cody Williams, Perry (AZ) High (Colorado)
West
Omaha Biliew, Waukee (IA) Senior (Iowa State)
Isaiah Collier, Marietta (GA) Wheeler (Southern California)
Mookie Cook, Chandler (AZ) AZ Compass (Oregon)
Baye Fall, Denver (CO) Accelerated Prep (Arkansas)
Jeremy Fears, Joliet (IL) Joliet West (Michigan State)
Brandon Garrison, Oklahoma City (OK) Del City (Oklahoma State)
Ron Holland, Duncanville (TX) High (Texas)
Bronny James, Chatsworth (CA) Sierra Canyon
Jared McCain, Corona (CA) Centennial (Duke)
Reed Sheppard, North Laurel (KY) High (Kentucky)
Andrej Stojakovic, Carmichael (CA) Joliet (Stanford)
Ja'Kobe Walter, Branson (MO) Link Academy (Baylor)
It's the length with Evans, his arms seemingly go forever and he continues to grow. There is so much there with his game, it is understandable how he can still be putting it all together. Evans has ball skills to re-initiate offense or grab and go off the rebounds. He has excellent vision, as teams are able to play through him from a stationary position in the half-court. Evans is a reliable spot shooter when his feet are set. While he is athletic, there is not a lot of pop in his game, but his enormous wing span makes up for a lot of that. He is great in the passing lanes and has excellent timing as a shot-blocker. He will need to continue adding strength, but that will come as he is still young. The upside is huge and the light is coming on.
Cook has all the tools. At 6-foot-8 he has the positional size. The broad shoulders and long arms showcase a projectable frame. Cook is a functional athlete and he has a smooth release on his jump shot with range. The question mark with Cook is his consistency. He seems to get lost in the shuffle a good amount, not imposing his will on the flow of the game. Cook has a tendency to settle for jump shots. He has the dimensions and physical traits to be a good team defender. This upcoming summer will be a big one in the development of Cook figuring out who and what he is as a prospect and player. The tools are there, the upside is still immense.