Ripping into the rivalry; Ducks deploy unique tactic to prepare for gameday atmosphere at Oregon State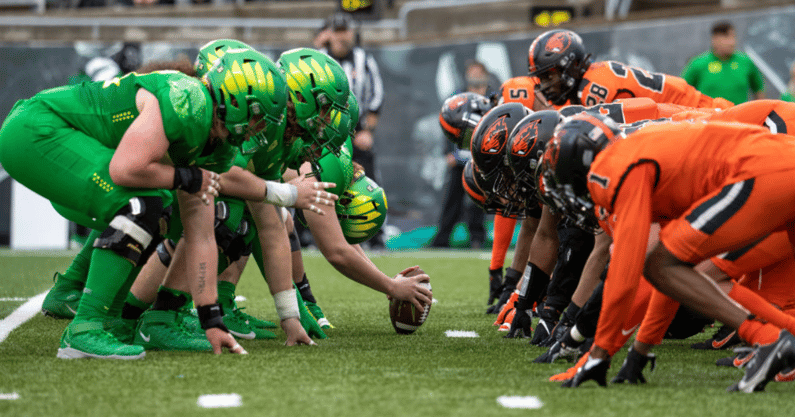 Dan Lanning is no stranger to utilizing unconventional mid-week tactics in order to prepare his team for rivalry games.
Earlier this season, in the days leading up to Oregon's showdown with Washington, Lanning played the UW fight song on endless loop during practice in order to get his team fired up for the occasion.
By the Wednesday of that week, most of Oregon's players — and even Lanning himself — were "sick and tired" of hearing Bow Down to Washington.
With the Ducks set to close out the regular season this Saturday at Oregon State, Lanning has implemented another unique plan to help prepare his players for the gameday atmosphere in Corvallis.
This one, at first glance, is a bit more bizarre.
"Today, they brought out a real chainsaw — just walking around yanking it, cranking it really loud," Oregon linebacker Mase Funa said on Wednesday.
Come again?
"My guy is out there ripping that thing," Oregon safety Steve Stephens IV. "It's comedy. It's funny, it's cool. It was pretty unexpected. In my five years here, I haven't seen anybody come up with a chainsaw."
To those who are unfamiliar with the gameday environment inside Oregon State's Reser Stadium, the school has a tradition of firing up a chainsaw in order to engage the home crowd during third-down scenarios.
Recently, Beavers' players have implemented a faux "turnover chainsaw" on the sidelined whenever they generate a takeaway.
Earlier this season, Nick Daschel of The Oregonian/OregonLive wrote an in-depth history of the tradition.
While the grating, gas-powered chorus may be music to the ears of many OSU fans, it's fair to say Oregon's players aren't quite as enthusiastic.
"We're all annoyed from it," Funa said. "That's the reason behind it. Just get us riled up. We're gonna hear it all game, so gotta get used."
Defensive lineman Taki Taimani is in his first season with the Ducks but played at Reser in both 2019 and 2021 while he was still with the Washington program.
He said the frequent noise has been a nice reminder that it's Oregon State week and noted that Corvallis can be a tricky road trip to navigate.
"It's just us adjusting to the environment up there, man," Taimani said. "It's a good stadium, man. It gets loud there; I've played there a lot. I think that third-down is just a little tradition they have. … It's us getting used to that chainsaw and not being shocked by it."
Lanning met with reporters before Funa, Stephens, and Taimani did on Wednesday, and was asked if he had done anything differently during practice this week in order to motivate the Ducks' players.
He did not discuss the chainsaw specifically.
"Every game is different," Lanning said. "Try to figure out different ways to motivate and improve."
But throughout the week, Lanning has made an effort on multiple occasions to praise what Oregon State coach Jonathan Smith and his staff have done this season despite dealing with a flurry of injuries.
"(Oregon State) has certainly done a great job of having impressive wins amidst adversity," Lanning said on Monday. "I think it shows a couple of things. One is that they're a really well-coached team. Coach Smith has done a great job there developing over time, and I think they've proven that they can win in unique ways. Lean on their best personnel when needed and do it in several different ways.
"So great job by them. Credit to them and their staff and credit to the people on the roster."