Running back Sean Dollars removes name from transfer portal, intends to return to Oregon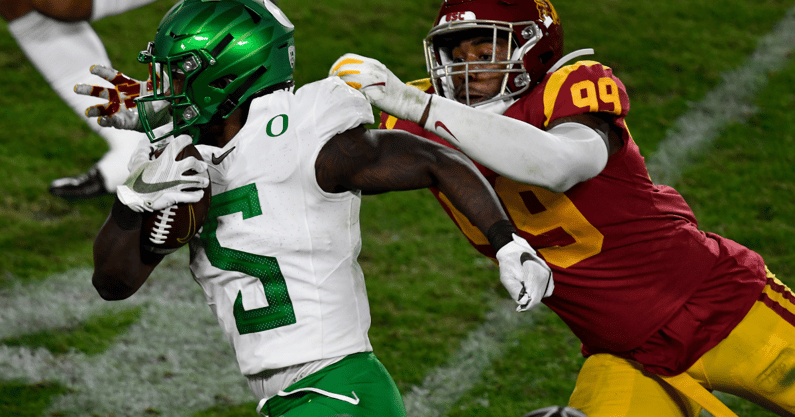 After it appeared earlier this week that Sean Dollars could be leaving Oregon, he reversed course Wednesday and announced that he will continue his career as a Duck.
Dollars, a redshirt freshman running back, Tweeted Wednesday evening that he is removing his name from the transfer portal and will return to Oregon for the 2022 season.
That announcement came just one day after Dollars entered, un-entered, and then-re-entered the portal all in the span of 32 minutes on Tuesday.
But shortly after it was reported Wednesday that Oregon running back Trey Benson had entered the portal, Dollars opted to remove his name from the portal.
Dollars has played in 11 games over three seasons for Oregon. He was the No. 162 overall recruit in the class of 2019 but has been hindered by injuries since arriving in Eugene.
Dollars missed his entire redshirt freshman season due to injury in 2021. In 2020, he ran for 47 yards on eight carries.
At the moment, Dollars, Byron Cardwell, and Seven McGee are all expected to return for their sophomore seasons.
Travis Dye and CJ Verdell have both started and excelled for the Ducks throughout their careers, and both could also return. Dye and Verdell have until Jan. 17 to decide if they will enter the NFL Draft.
Neither Dye nor Verdell has publicly announced a decision on their respective future at this point.