ScoopDuck Predictions: Oregon vs WSU Score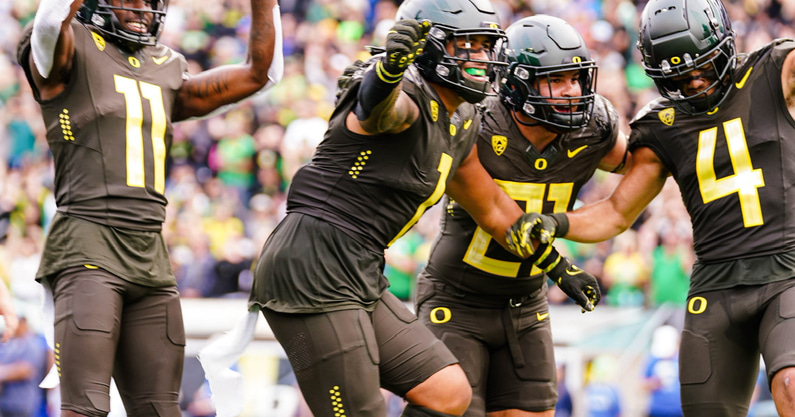 It's time to offer up score predictions for this week. As usual the team and I have put together our predictions for Oregon's conference opener with Washington State on Saturday.
This one expects to be another great test for Oregon. As you know things are always different in conference play.
So let's take a look below at the scores and see how we see this one shaping up. Last week our closest guess was Travis with a prediction of 38-24 Oregon over BYU.
QB11: Oregon 42, WSU 17
An Oregon team that is seemingly gaining momentum and improving weekly, against a Wazzu Offense that hasn't been particularly efficient to this point. The Ducks haven't performed well on the Palouse in recent years but that changes this year in my opinion. Oregon size and team speed is the difference here against Wazzu QB Cam Ward who has turned the ball over at a high rate.  
Jarrid Denney: Oregon 35, Washington State 24
Winning at the Palouse is never easy, and this is the best Washington State team since at least 2018. But Oregon made some major strides during its win over BYU and I don't see the Ducks stumbling in Saturday's conference-opener. 
The Cougar's offensive line hasn't been particularly good in pass protection this season, and Oregon's front seven has started to hit its stride over the past two weeks. The Ducks will put enough pressure on Cameron Ward to disrupt the Washington State offense. Kenny Dillingham's offense will continue to pile up points, and Oregon will notch a really impressive win to kick off Pac-12 play. 
Joel Gunderson: Oregon 38, WSU 24
I hate this trip. Every time, regardless of their current team status, I dread Pullman and Tuscon. Even when Oregon has left victorious, it never felt good until the clock struck zero. 
So it is with MUCH trepidation and fear that I'm making this my prediction. But something about this team and this staff feels different from the past. And it comes down to one man:
Dan Lanning.
It's been three games: a dismantling loss, a didn't-learn-much win, then an outstanding victory in game three. Lanning is young and will have growing pains as he gains experience. But every aspect of Saturday's win was masterful and showed a level of actual in-game coaching chops we hadn't seen since 2012. Oregon was prepared for scenarios A, B, C, and C in every category. Plus, their offensive line is filthy.
Lanning isn't a savior (not yet, at least), but he has done nothing to make me think he can't take Oregon to another level. His command over the team, and the synchronicity with his staff, are better than the most optimistic of us would have hoped for this early.
WSU is good, and Pullman is a nightmare. But this feels like a different Oregon team, and I'm…gulp…excited for this game.
Travis Rooke-ley: Ducks 31 Cougs 21
The Cougs defense has Beene excellent so far this year, but that is against three teams with below-average QBs and skill-position players. I think our OL will continue to play really well, leading to a balanced offensive attack against their undersized defense. I expect our tackling in space to continue to improve, a key against the air-raid offense. Ducks leave Pullman with a rare, stress-free win.
Corpatty: Oregon 21, WSU 20
Oregon has struggled recently in its trips to Pullman, losing 2 of the last 3 and winning only during the shortened 2020 Covid season.  The Cougar defense has been stellar so far this season, not surrendering more than 17 points in any game.  So I expect this to be a defensive struggle and relatively low-scoring.  I think turnovers will largely decide this one.  The Ducks will need Nix to take care of the football.  I see this game going down to the wire with the Oregon running game being the difference as the Ducks squeak out a close, hard-fought one-point win.
Jhop: Oregon 44, Washington State 30
I love the way Oregon rose to the challenge of BYU last week. This week however a couple things concern me just a bit.
Wazzu is good. And they will present some unique looks on both sides of the ball. Secondly, how good is Oregon on the road? We simply don't know yet.
Pullman is a dangerous place to play. For anyone, but especially Oregon. I'm not really worried about the final score this week, just getting a dub is all I need from Lanning and co.