ScoopDuck RoundTable: Projecting Oregon's Final Record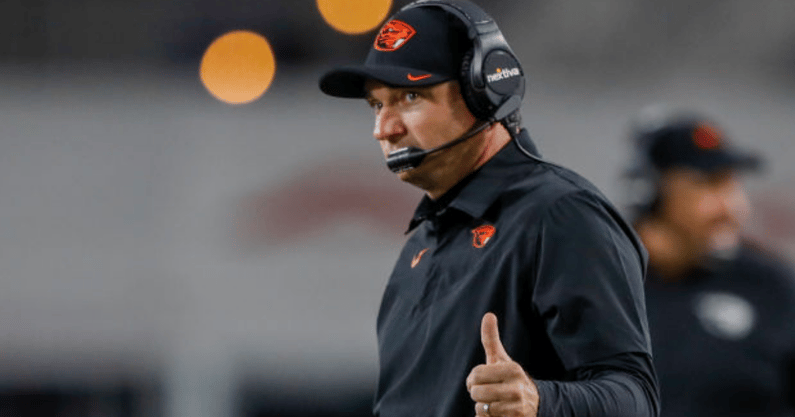 Oregon sits at 4-1 which is where most of us projected the Ducks to be at this stage. How they got there isn't exactly how we drew it up, but the results are the same nonetheless.
With the bye week in full swing, Jarrid, Joel and myself offered up our adjusted projections for the remainder of the season. Now that we've had a decent sample size, we can more accurately predict how we see this team finishing. And not just a sample of Oregon, but of the remaining teams as well.
Below are our thoughts with where things during the very slow and painful bye week.
Joel Gunderson: 9-3
Before the season began, if someone had told you Oregon would enter their bye week at 4-1, odds are you would have taken it and been happy, but not totally surprised. Looking at Oregon's schedule, four of their first five games seemed like wins, with an obvious loss. And that's where we stand today; however, how Oregon got to 4-1 is the surprise.
I was one of those people who predicted 4-1, so Oregon is where I expected them to be. And despite the odd way they reached that record, overall I think they're right on schedule, even with the unfathomable amount of injuries. I mean, really think about it: If you saw 4-1, but only having had Kayvon Thibodeaux for, essentially, one game's worth of snaps; one game with Justin Flowe; two games with Bradyn Swinson; and now losing CJ Verdell and Bennett Williams, you would have taken that record and been the happiest fan in the world.
Looking ahead, assuming KT stays healthy, Swinson returns, and the young guys continue to improve — as well as necessary improvements on offense — I think Oregon can have an even more successful final seven games. But their schedule gets harder, which is why I'm sticking with my 9-3 prediction. Try as I might — and despite their recent struggles — I just don't see the Ducks escaping UCLA. The physicality the Bruins are capable of playing with is just too much. Finding the other loss is a bit trickier, but I'm going to say Oregon State. Am I drinking the juice too easily? Perhaps. But Jonathan Smith is hands-down the best game day coach in the conference, and I believe the Beavers are legit. 
9-3 is good. It is. And when you factor in Oregon's youth and injuries, it's very good. And the best part is that 2022 and beyond should be even better.
Jarrid Denney: 11-1
I believe the Ducks will run the table the rest of the way. Because of the Stanford loss, whether or not they get a shot at the Pac-12 title game is no longer in their control. 
But Oregon's clunker in Palo Alto will be the wake-up call it needs to come to life and rampage through the rest of the conference schedule. I simply don't believe anybody of their remaining opponents is talented or disciplined enough to beat the Ducks. 
Oregon State is obviously the game everybody has circled on the calendar at this point. The Beavers are, in my opinion, the one major concern the Ducks have left. Jonathan Smith is running a really good program up in Corvallis, and the Beaves are a legitimate top-25 team with a dynamic quarterback in Chance Nolan, a well-coached defense with a few absolute studs, and one of the best offensive lines in the country. 
Oregon is going to have to grow up quickly if it wants to beat the Beavers in Eugene. I think the Ducks will do that and emerge with a win after one of the best I-5 rivalry games in recent memory.
Jhop: 10-2
Ok, so I guess I'll take the middle. And I'll say this, we're all wondering if this team will make a change at quarterback and get better offensively if so.
The end result of that move might not really net much of a win/loss difference but could at least spark this team offensively.
I'm not entirely sure UCLA will be all that much of a game for the Ducks. I don't like that it's in L.A., but the physical style of Oregon should be able to handle the Bruins.
Cal, Colorado, Wazzu and even UW, really look like games the Ducks should walk through. I feel like Washington will play Oregon close (r) but the game will never really be in doubt.
Utah really isn't playing all that well either but playing in Salt Lake City in late November, well let's just say I'll be glad to be watching it from my nice warm couch.
So far I'm saying Oregon really only has two games that should test them. Probably UCLA and at the moment, it appears Oregon State. Which looks like it might be the best Civil War game in quite some time. Jonathan Smith is however, also playing with 'house money' in my mind and a loss or two is probably coming.
I guess I see potential for Oregon to drop one of UCLA or Oregon State on its way to a 2-loss season. Which is, at the end of the day, right where we expected them to be in August.