Tosh Lupoi praises mentality of Oregon linebacker Justin Flowe; "I love his intensity"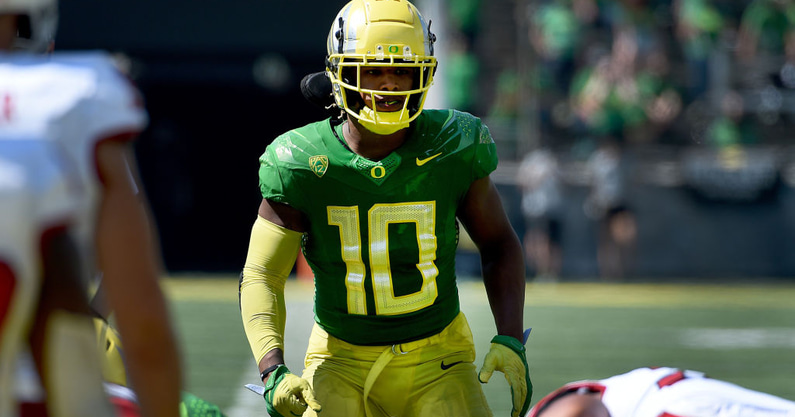 When Tosh Lupoi became Oregon's defensive coordinator last winter, he immediately inherited a rich collection of talent.
Oregon's 2020 and 2021 classes ranked No. 12 and No. 6, respectively, according to the On3 Consensus. That is due in no small part to blue-chip players on the defensive side of the ball. There is no player in either of those classes who possesses more sheer talent than redshirt freshman Justin Flowe.
The top linebacker in the country for his class and the second-highest ranked recruit to ever sign with Oregon, Flowe is now playing under his third defensive coordinator in Eugene. Injuries have wiped out his first two college seasons, but he is healthy now and has been full-go during Oregon's first two days of fall camp.
Flowe plays with as much energy and fire as any player to ever come through the Oregon program. His intensity has already become the stuff of legend among his teammates. Lupoi possesses an equally intense personality, and it was easy to imagine player and coach clicking when he joined Dan Lanning's staff.
It's still early days, but the early returns for what Flowe might accomplish in Lupoi's defense sound promising.
"I'm excited to have his presence," Lupoi said on Saturday. "The thing I love about Justin is we've got to constantly tell him to slow down. I'd rather do that than have to demand someone every day to speed up. He's a guy that you've constantly got to remind to slow down.
"Sometimes a walk-through looks like it's 4th-and-1 with the game on the line. But I love his intensity."
In the spring, Lupoi directed similar praise toward his star linebacker. At that point, Flowe had only recently resumed football activities, and he wasn't cleared to play in Oregon's spring game.
Now, though, Lupoi no longer has to squint to imagine what his defense might look like with Flowe and all-conference sophomore Noah Sewell in the middle of it.
The pairing of the two thumping inside linebackers could turn out to be one of the best duos in the country. But in the eyes of some, it could also prove to be a liability in certain scenarios.
Neither Flowe nor Sewell are known for their coverage skills. Last season, Pro Football Focus issued a 59.0 coverage grade to Sewell, which ranked 220th in the nation among linebackers who met the publication's snap minimum. In the lone game that he played before suffering a season-ending injury, Flowe garnered a grade of 50.0.
On Saturday, Lupoi was asked what, exactly, Flowe needs to do during camp to become more adept in coverage situations. He said that work began long before the start of fall camp.
"I think he's challenged himself," Lupoi said. "If you just look at his body and his body weight, he's really committed to that. He's a guy who can move from point A to point B with a lot of speed and violence. He's a guy that has some versatility to his game, really, as well.
"We put a lot on that position at times, and what he needs to do from a coverage standpoint. He's done a nice job of answering those for us."