Dan Lanning discusses Oregon roster, quarterback competition, and settling in as Ducks' head coach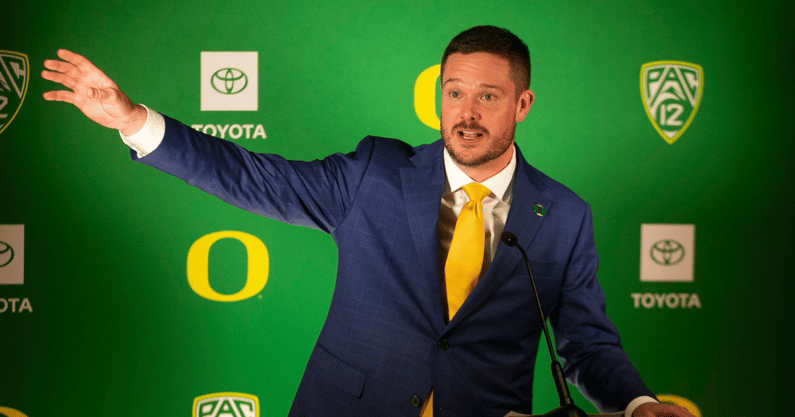 Dan Lanning has hit the ground running at Oregon.
It's been less than a week since he and the Georgia Bulldogs captured the College Football Playoff National Championship, and Lanning has already been plenty busy since touching down in Eugene early Tuesday morning.
On Thursday, Lanning met with reporters via Zoom for the first time since concluding his tenure as Georgia's defensive coordinator and focusing his efforts entirely on Oregon's program.
When asked about the status of a few key players who have not officially announced if they will return to Oregon for the 2022 season, Lanning was non-committal, as he said he wanted to respect the individual situation of each player. That included Travis Dye, CJ Verdell, and DJ Johnson, all of whom are weighing their NFL Draft options.
Although, later during the press conference, Lanning mentioned Johnson as a player whose versatility could be an asset for the Ducks next season.
"I think that one thing our roster has right now is some position versatility. You talk about a guy like DJ who played tight end and outside linebacker this year. You talk about (Jackson Powers-Johnson) who played on the D-line this year and the offensive line. I just think you can go down the board where several guys on our roster have done multiple things."
Here are a few more of Lanning's notable remarks from his Thursday press conference.
On the significance of Brandon Dorlus, Bennett Williams, and several other Ducks returning for 2022
"I'm excited about this team — as much for the players we have, the caliber of men that we have on this team who are excited to compete. I think they share a vision that I share of what we can be here and what this program can become. I think they recognize that what we're putting together is really special."
On Oregon's quarterback position, how Bo Nix fits his vision, and whether the Ducks will have an open QB competition
"Competition breeds excellence, ultimately. We're gonna have competition at every position across the board — quarterback included.
"What I know about Bo: he's an ultimate competitor. I know how hard he works. Obviously, coach Dillingham has experience getting an opportunity to coach Bo in the past.
"We were really clear with Bo that, 'Hey, you come in here, there's certainly an opportunity to compete. But we're really excited about the guys we have on our roster as well and excited to see those guys come in and compete and go to work."
On when he got a chance to mentally switch gears and shift his attention fully to the Ducks
"So, like, walking off the field in the tunnel right after winning the national championship, I was on a FaceTime with a guy that can enhance our program and make us better.
"So yeah, absolutely, in that moment I was a Duck."
On finding a balance with his staff hires
"Ultimately, I said here before we're looking for two things: relationships and development. We didn't wanna sacrifice on either end there. I think that's really really important as we were piecing this staff together. Fortunately here at Oregon, we have the ability to be competitive and we have the ability to go get the best of the absolute best.
"So whether the best be in the NFL or the best be in other college programs. That's what we targeted. We went through a hard search, looked really in-depth at a lot of different positions. I'm ecstatic about the group that we've put together. Some of these guys have NFL experience obviously that's a big piece. Some of these guys have been at the highest level of college. Some of them haven't, but just happen to be some of the best coaches I've ever been around or seen firsthand.
"So what exists in front of here is opportunity. We've got an opportunity here for this staff to be really, really special. I know we've got great men of character. Great coaches and teachers are gonna be around our players and I couldn't be more thrilled about the group we've put together."
On what his message has been to Oregon's players who have entered the transfer portal, and how he has convinced some to stay in Eugene
"I think every message is different and unique. Every player is a different situation. So I don't know if there's an end-all-be-all with each message. Ultimately, I think if you build your program on honestly and you're honest with your players, they recognize that. So there's what's in the best interest of Oregon and there's what's in the best interest of the player.
"When those things align, I think really unique, special things can happen. I think that a lot of these guys recognize that."
On why it was important to him to build a staff of top-tier recruiters
"I mean, ultimately, I don't think it matters how good a coach you are if you're not able to have great players. I agree with coach (Kirby Smart) very much so from that standpoint. I've always been the best coach when I've had great players. Like I said, I think people who have great relationships are great recruiters. When you hire people who are genuine and have great relationships and are great teachers, they generally are also great at recruiting.
"Ultimately what I looked for in all that are guys who are great at everything they do. I don't think you have to settle and have one or the other. But we have to have great players here at Oregon to be great."
On how he has gone about evaluating Oregon's current players
"It's still late nights and early mornings for us. We're sitting watching film of our current players. I think everyone thinks for us right now that we're evaluating all these players that are outside in the portal or this high school recruit here or this recruit there.
"I'm spending time last night watching film of our current players and current guys I wanna be able to form my own opinion. Because I told our team yesterday that when there's transition and when things are new, it's an opportunity for you to be the absolute best version of yourself.
"I don't have to be the Dan Lanning I was at Georgia; I can be the best Dan Lanning I've ever been, right? Same thing for our players. Whatever the staff was before, and their opinion of you, that's great. But the reality is that person is not here. I'm here now. Be the best version of you; recreate yourself; this is your chance to do that.
"When change happens, I think there's new life and new opportunity. I know this was a successful program. We're taking over a really successful situation here. But I want to be able to form opinions on our players. I don't wanna come in with preconceived notions about who is who and who's what.
"That being said, I know what's on our roster right now. I know there's some great talent at positions. If we continue to do a great job of acquiring more talent, I think we'll continue to be in the driver's seat.