Will Richardson puts pro career on hold, will play fifth season for Oregon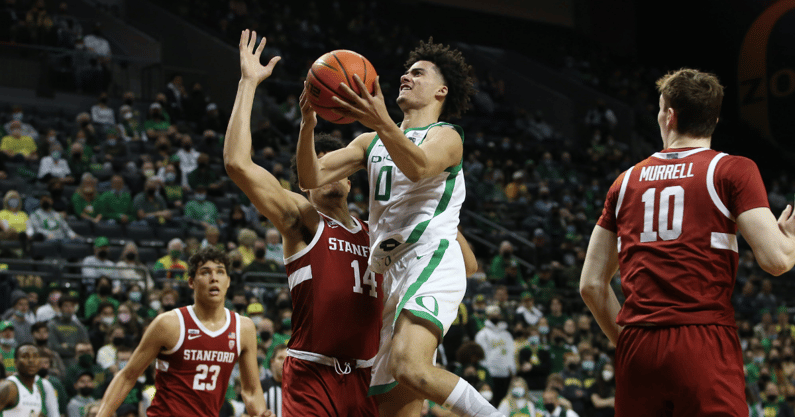 Will Richardson will be back in Eugene for one more season.
Richardson, Oregon's starting point guard and leading scorer last season, is putting his professional career on hold for one more year and will play his fifth college season for Dana Altman's program. Richardson's decision to withdraw his name from the NBA Draft was first reported by Jeff Goodman of Stadium.
Richardson was a second-team all-Pac-12 selection for Oregon last season while averaging a team-best 14.1 points per game. He was also one of the top three-point shooters in the conference at 38.8 percent.
When the Ducks were at their best, Richardson was often their offensive focal point. He played a monumental role in their back-to-back road wins over USC and UCLA in January when both teams were ranked in the top-five nationally.
However, his performance dipped toward the end of the season, and he missed Oregon's final five games. Richardson received some criticism from a vocal sector of the program's fan base because of that.
After Oregon's season-ending loss to Texas A&M in the NIT, Altman revealed that Richardson had been dealing with mononucleosis during the final month of the season, and that was the reason for his absence.
With Richardson in the fold, the Ducks now figure to be as deep at the guard position as any team in the Pac-12.
This offseason, Oregon has added Colorado transfer Keeshawn Barthelemy, as well as South Carolina transfer Jermaine Couisnard. They are also set to bring in '22 signee and five-star guard Dior Johnson and junior college transfer Brennan Rigsby.
Jacob Young and De'Vion Harmon both started at guard for Oregon last season, but Harmon has transferred to Texas Tech and Young has exhausted his eligibility.