With Ohio State win in rearview, Oregon still has "a lot to correct"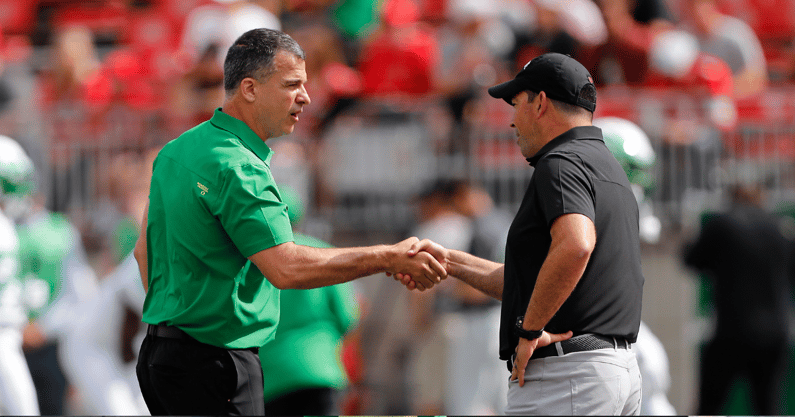 When you come away with the sort of win Oregon captured in Columbus over the weekend, it's hard to be upset about too much.
Mario Cristobal and his staff soaked in the moment at Ohio Stadium after they delivered a program-defining win to the 3,000 Duck fans who traveled to watch, and he made sure to thank those fans at the start of his Monday press conference.
But Oregon doesn't win that game without embracing the "1-0 mentality" that Cristobal preaches constantly. With the most difficult game of the season now behind them, the Ducks will continue to live by that mantra.
That means digging into what went wrong against Ohio State.
"When you watch the film, even though we're really fired up about coming back 1-0 against a No. 3 team in the country — we get it: tough place to play, been a huge goal," Cristobal said Monday. "I know everyone was looking forward to that game for a long time, our fan base and everybody else.
"When we watch tape, there's a lot of stuff to correct. It's all over the place."
No performance will ever be perfect. Oregon got massive contributions at nearly every position in Columbus. Joe Moorhead had the offense firing, and Bradyn Swinson, Verone McKinley III and a handful of other Ducks delivered star performances on defense. Oregon generally outplayed the Buckeyes all afternoon.
Now, though, it's about fine-tuning the small details from that performance and cleaning up the areas that hindered the Ducks in Week 2.
According to Cristobal, there is plenty to be done.
"The bottom line is whatever is not good enough in defeat certainly can't be good in victory as well," Cristobal said. "There was a ton."
Trust the process
After a dodgy win in the opener against Fresno State, there was plenty of chatter as to whether or not the plan that Cristobal has been selling since he took over the program was truly working.
After all, the offense line was bullied against the Bulldogs, Oregon senior quarterback Anthony Brown looked ineffective at times, and a defense that trumps physicality as its calling card got picked apart by Fresno State quarterback Jake Haener.
On Monday, though, Cristobal looked inward during his press conference and said the Ohio State win is proof that the process is working.
"There's more than enough validation there to say, 'Hey, this thing works and we do things a certain way,'" Cristobal said. "Now we've gotta get right back to work, because there are a lot of good teams and we do have a significant amount of guys banged up."
Oregon areas of improvement
If you want to pick nits with the Ducks' performance in Columbus, a good place to start would be the gaudy passing number they yielded. Ohio State racked up 484 yards through the air and quarterback C.J. Stroud finished with three passing touchdowns.
Don't be confused: Ohio State is going to do that to a lot of teams this year. Receivers Jaxson Smith-Njigba, Chris Olave and Garrett Wilson are all going to play on Sundays, and the trio finished with 145, 126 and 117 yards, respectively.
The issue isn't necessarily that the Buckeyes racked up all those yards though the air. It's the ease with which they did it at times.
Ohio State's tempo was simply too much for the Ducks to handle at times.
That wasn't the only time Oregon's players got caught waiting for a play to come in.
It's unlikely the Ducks will play another team this season that pushes the pace as much as the Buckeyes, but nonetheless, Cristobal pointed the finger at himself for that error and said Oregon's inability to be ready at times is unacceptable.
"Oh yeah, they caught us," Cristobal said. "When they're going tempo, your defensive calls have to match the tempo. You can't match it with a wristband, that's a mistake by us that we'll fix and move forward on.
"You see it coming and you have enough time to get it communicated. … We've just gotta do a better job as a staff, all of us, to make sure we get a play in quickly. Something that's very simple to understand, not a dissertation."
What comes next
Oregon enters Week 3 as heavy favorites and may get the chance to rest a few injured players. But as Cristobal sees it, the matchup with Stony Brook will be absolutely pivotal for the Ducks.
"We're looking for improvement," Cristobal said when asked what he hopes to get out of Oregon's final non-conference matchup. "We want to grow more as a team. With guys being a little bit nicked up. … We want to see guys step up into more prominent roles and perform at a high level. At a championship level.
"It's important to us. I think that's the most important thing to see — consistent improvement by our football team in all areas. Certainly we want to do nothing but keep taking steps forward."