With win over Ohio State, Anthony Brown proves he can lead Oregon to great heights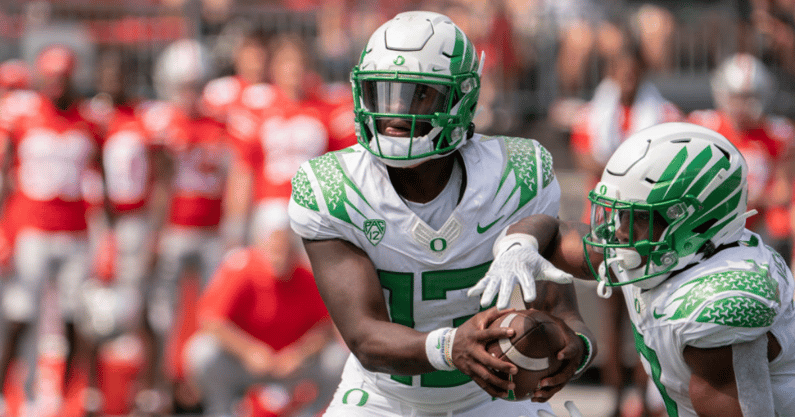 This didn't happen overnight for Anthony Brown.
You don't simply walk into one of the most hallowed stadiums in all of sports, stare down a rabid crowd of 100,000 fans who want nothing more than to watch you fail, and then lead your team to a historic victory.
Not without countless hours of quiet, tedious work.
Not without battling day in and day out to earn the trust and respect of those around you.
With Oregon's 35-28 upset win over Ohio State in Columbus on Saturday, the nation learned that Oregon is Anthony Brown's team. They also found out that with the senior quarterback at the helm, the Ducks are capable of great things.
Those who watch Brown go to work on a daily basis, though, have known what he was capable of for a long, long time.
"He was winning over the team toward the end of last season," Oregon head coach Mario Cristobal said. "I think today, everybody saw why.
"Besides being a playmaker, his demeanor and his poise is special. It's different.
"He's a really, really cool — in the right way — kind of guy. I guess when you've been through what he's been through injury-wise and everything he's had to deal with in his career, it hardens you. You become calloused.
"He's unfazed."
Brown finished the day 17-for-35 passing with 236 yards and 2 touchdowns. He ran for 65 yards on 10 carries.
That stat line won't blow anybody away. He was very much the beneficiary of Joe Moorhead's perfectly executed game plan.
The sixth-year quarterback made his fair share of mistakes. He left some throws on the table, and he and the Ducks failed to score on their final three drives when a touchdown or field goal would have made for a much easier day.
But make no mistake: Oregon does not topple Ohio State in its own house without Brown.
"He's such a good player," Oregon running back Travis Dye said. "His heart is ridiculous.
"It's what we needed."
Oregon's offensive line did a stellar job of keeping the pocket clean for Brown for much of the afternoon. But Ohio State's defensive front is littered with talent. Brown was never going to make it through the day unscathed.
The transfer from Boston College hung in the pocket when needed and took a few big hits. And he ran the ball as if he were a 235-pound running back, frequently punishing would-be tacklers.
The toughness and sheer desire that Brown displayed Saturday is something that Mario Cristobal has been working to instill in Oregon's program since he arrived in Eugene.
On a day when Oregon was without its star edge rusher, its starting inside linebacker AND his phenom backup, Brown made sure that the Ducks did not wilt on the national stage.
"Honestly, it developed over my time being here," Brown said of the toughness he played with Saturday. As did his willingness to show his teammates he could play in such a way.
"We work together all the time," he said, "and I've got love for them.
"I would lay my life on the line for them."
Both Brown and the Ducks delivered subpar performances in their season-opener. And the quarterback endured plenty of criticism from a fan base that has lofty expectations.
His teammates came to his defense, and Brown was the first to admit that his play wasn't good enough in the opener. He can likely give you a laundry list of mistakes he made against the Buckeyes, too.
Brown isn't perfect. No quarterback is.
But on Saturday, in a game that very few expected Oregon to win, Brown helped the Ducks overcome insurmountable odds. He proved to a skeptical nation that this is his team.
And that his team could be something special.