3 ways the Big Ten media rights deal impacts Penn State: Big Noon is here to stay, streaming is coming, and so is big money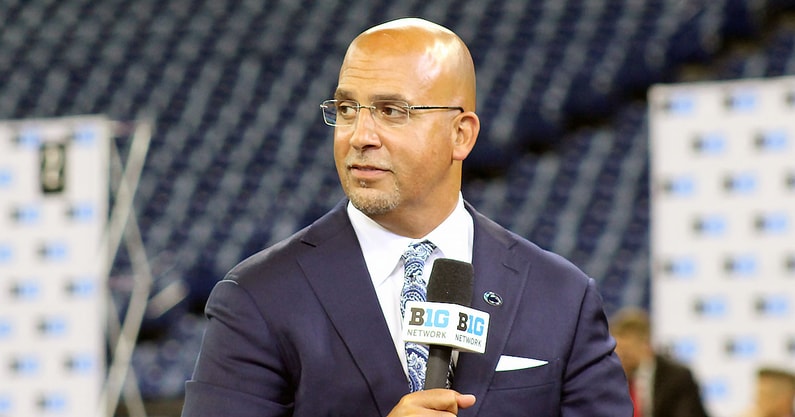 The Big Ten Conference announced a long-awaited new media rights agreement with multiple partners on Thursday.
CBS, FOX, NBC and NBCUniversal's Peacock are all part of the deal, which starts July 1, 2023 and runs through the 2029-2030 season. Big Ten Network and Fox Sports One will still be home to conference matchups, as well, under the FOX umbrella.
"The Big Ten Conference media rights agreements are more than just dollars and deals," Big Ten Conference Commissioner Kevin Warren said in a news release. "They are a mechanism to provide stability and maximum exposure for our student-athletes, member institutions and partners during these uncertain times in collegiate athletics.
"We are very grateful to our world-class media partners for recognizing the strength of the Big Ten Conference brand and providing the incredible resources we need for our student-athletes to compete at the very highest levels, and to achieve their academic and athletics goals." 
Here are three ways the new agreement impacts Penn State and you, the fan.
Big Noon Kickoff is here to stay
Some segments of the Penn State football fanbase were irate when the Lions chose to make this year's White Out game the primetime Minnesota matchup instead of the Ohio State game. That matchup with the Buckeyes does not yet have a start time. But, it has FOX's 'Big Noon Kickoff' written all over it.
With this deal now done, FOX will have an even bigger say in when the best matchups are played. So, if you expected Penn State-Ohio State or Lions-Michigan to automatically be in primetime moving forward, we have bad news for you: It probably won't be.
Will that permanently change the Penn State approach in terms of how it picks its White Out opponent? Maybe (more on that later). But head coach James Franklin said recently that doing it in primetime is key to many stakeholders.
"The data said that most people want a night game," Franklin said at Big Ten Media Days. "So we looked at our schedule. The game that we thought had the best chance to be a night game, another game we had seen [he's implying Ohio State] was probably going to be a 12 o'clock game. That impacted the decision, and that's where I was leaning [toward the pick being Minnesota]. The fans back that up. Then, when Pat came in, I asked him and right away he was he thought the same thing. So that's why the choice was made."
Penn State and other Big Ten schools are about to make a ton of money
Here is perhaps the only thing that truly matters when all is said and done. As ESPN reports:
"The Big Ten is projected to eventually distribute $80 million-$100 million per year to each of its 16 members. According to USA Today, the league distributed $54.3 million to most of its members during the most recent fiscal year (2019-20) not impacted by the coronavirus pandemic."
There is a lot that can be done with that kind of money. That must be recognized, even if you don't like the broadcast partners or their preferred timeslots.
Penn State must support one of the country's biggest and most expensive athletic departments. It also has numerous facilities it wants to address. Private donations must and will help with some of that. But, television money is what sets the Big Ten (and eventually SEC) apart from every other college competitor.
"It's very expensive to operate our athletic departments," Big Ten commissioner Kevin Warren told ESPN. "These new deals will continually provide stability for our athletic departments to service our students in a highly productive manner, allowing them to get a world-class education but be treated in a manner that they rightfully deserve.
"This will help our student-athletes in their continued pursuit of name, image and likeness opportunities, because now you're going to be on linear TV from morning to night on Saturday with three massive organizations."
The money for this deal was always going to be huge. And, it will have a huge impact on the future of Penn State athletics and everyone else in the Big Ten.
The way we watch Big Ten sports is changing
Starting in 2023, where and how you consume Big Ten sports will be much different.
Remember those Penn State-Northwestern Noon ET contests on ABC? Or Penn State taking on Michigan State in basketball on ESPN? Those days are gone. The Disney family of networks are not a part of this new deal.
First, let's tackle how that impacts football. From a Big Ten news release:
"Big Ten Conference football will dominate Saturdays, beginning in the fall of 2023 on the largest broadcast platforms from morning to night, with FOX at Noon ET, CBS at 3:30 p.m. ET and NBC in Prime Time."
NBC will show 14-16 Big Ten games in primetime. So, if you're a Penn State fan who wants a big-time game at night for the White Out, your hope would be that NBC gets it. We'll see how that plays out.
One other important note: Streaming is here. Peacock will exclusively stream "eight regular-season football games will appear on the platform along with as many as 47 regular-season men's basketball games (32 conference and 15 non-conference) and 30 regular-season women's basketball games (20 conference and 10 non-conference)."
That is more likely to affect Penn State on the basketball side of things compared to football. But the Lions are such a huge draw. So, it's not crazy to think that one of its football low-tier matchups, like at Rutgers or Maryland, could be picked as a streaming-only game.
Finally, the Big Ten Championship game will rotate across the broadcast partners on the following schedule:
CBS: 2024, 2028

FOX: 2023, 2025, 2027, 2029

NBC: 2026