5 things Penn State football fans should be thankful for this Thanksgiving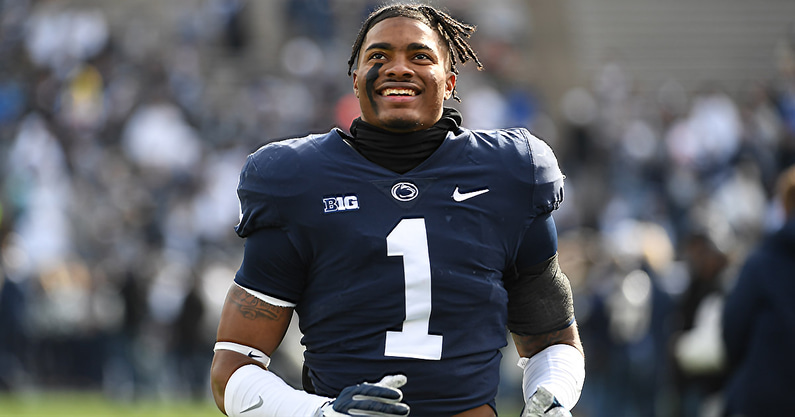 Happy Thanksgiving, Penn State fans.
However you spend your day, we hope you enjoy it and appreciate you stopping by the site between bites to eat and perhaps a nap and dessert. And, some football, of course.
What are you thankful for today? Here are five things that we think should make Penn State fans' list with a week to go in the regular season.
1. Packed stadiums
Tell the truth: You actually ENJOYED sitting in Beaver Stadium/State College traffic, didn't you?
We sure did, as it meant that cheering crowds, tight tailgate lots, and team spirit was all back at home and on the road after a year without them.
It's so strange looking back at last season's photos. Masks are everywhere, stands are empty, and the noise on television copy is almost all manufactured.
That wasn't the case this fall. Penn State announced crowds of 105,000-plus for every home game. Even though they weren't all that big, each one packed a punch for the Nittany Lions. And, we were reminded again why the White Out is one of the greatest spectacles in sports.
2. Seniors who returned, joined the Penn State program
Stop and think about it for a moment. Where would Penn State be without the following players?
Even back John Lovett had some key moments early even if there haven't been as many late.
Penn State had tons of questions prior to the season. The group above helped answer many of them through the first 11 games.
Subscribe to On3 today for just $1 for a yearly subscription to BWI
3, A big-time recruiting class is coming
Penn State has the No. 8 Class of 2022 in the On3 Consensus rankings. Remember: The Consensus uses a sliding average number of commitments scale and is based on the consensus rating, which weighs On3, 247, Rivals, and ESPN rankings evenly.
With that out of the way, per On3, the Lions have the nation's No. 1 quarterback in Drew Allar, the top back in Nicholas Singleton, and 10 total players in the On300 rankings.
This group, which should all sign during the early signing day on Dec. 15, is tracking to be one of the best in the James Franklin era. It's big and feels a lot of needs. Don't forget about Harvard transfer Spencer Rolland, as well. He counts in the class, too.
4. Penn State has stability moving forward
Families might argue at the Thanksgiving table, right? Well, the Penn State family argues all across the internet and elsewhere, too.
The point of that is to say this: Lions fans should be thankful that the program now has stability moving forward. That's the case after James Franklin signed a 10-year contract extension on Tuesday. It guarantees him at least $85 million if he's here through the 2031 season.
Some will say that's not true because the buy-out for Franklin to leave becomes low enough for the coaching carousel rumors to start again in two years or so. Others will say that's foolish, and that the 49-year-old Pennsylvania native is locked in for the long haul.
Sides will be taken, but the reality is this: Either way, in today's college football, even two or three years of certainty is a plus. Penn State is working on double-digits. If you don't believe that, look around at all the coaches who are bounced out or move around this offseason. It might not be preferable, but it's a reality.
Penn State and James Franklin will benefit from this move. Yes, he won the buyout side of this, no question. But the goal for both sides is to come up with a plan that makes that irrelevant. Now, it's on Franklin to do so from a coaching perspective and Penn State to do it from an off-field one.
Discuss the latest Penn State news and debate with Nittany Lions fans inside The Lions Den forum.
5. Penn State fans have plenty to look forward to
There might be only one game to go in the regular season, but that doesn't mean there isn't plenty to look forward to.
On the football front, besides Michigan State, a bowl game is on the horizon. There could be assistant coach movement and certainly will be roster changes. Recruits and transfers will join the program, winter workouts will offer a glimpse at the future, and before we know it, spring ball will be here.
Penn State basketball, wrestling, and other sports are in full swing, too. The excitement never stops, as Nittany Lions fans know well.
Enjoy the rest of your Thanksgiving, everyone.