Report: Big Ten considering format shift to football scheduling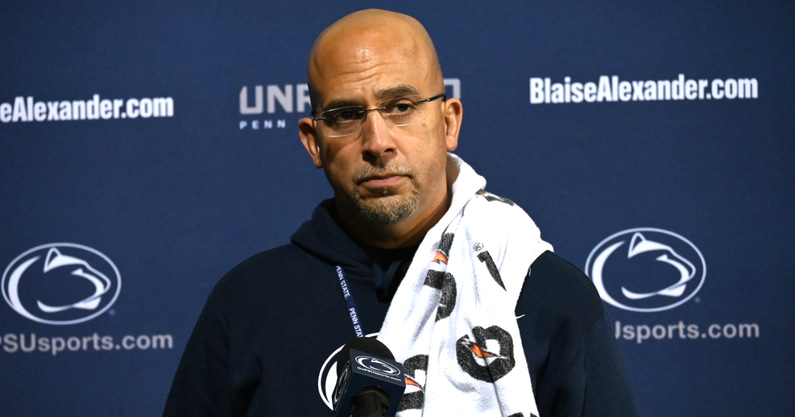 The news coming out of the Big Ten would likely be music to the ears of Penn State head coach James Franklin.
According to a Wednesday afternoon report from The Athletic's Scott Dochterman, the Big Ten is in talks over the possibility of significant changes to its football structure.
Among them, the conference could potentially remove its two division format, switch back to an eight-game Big Ten schedule, and begin to schedule annual matchups with ACC and Pac-12 programs.
How would Big Ten football look moving forward?
The first steps in this process were formalized as informally as could be in August.
Responding to the news that Texas and Oklahoma would leave the Big 12 to become members of the Southeastern Conference, the Big Ten, ACC, and Pac-12 hastily scheduled an August 25 press conference for an announcement. That announcement, the commissioners of each conference said, would take shape in the form of an alliance amongst themselves to create strength in unity.
"To be able to work with (Pac-12 commissioner) George (Kliavkoff) and (ACC commissioner) Jim (Phillips) and this alliance with our respective conferences is really special," Big Ten commissioner Kevin Warren said. "Today is a special day. I think what it does is signifies that there still is a lot of goodness in college athletics. And this is an opportunity for us to come together in a strong alliance to work together, not only with the ACC, the Pac-12 and the Big Ten, but also other conferences in college athletics.
"But there is turbulence right now in college athletics. There are things that we need to address. We need to have strong leadership. We need to work together. And I'm looking forward to having an opportunity to work with Jim and George and our respective leaders on our campuses and in our conferences to figure a lot of these issues out."
In the Big Ten football specifically, those issues have been plentiful in recent seasons.
Now in the College Football Playoff's eighth year, the Big Ten has placed programs in the competition just six times. That representation has been limited to Ohio State (four), Michigan State (once), and most recently, Michigan (once).
The Big Ten has reached the final just twice, both times for the Buckeyes in 2014-15 and 2020-21.
Threatened by the expansion of the SEC to include Oklahoma, a four-time CFP participant and Texas, one of the blue-bloods of the sport, the arrangement between the three conferences amounted to a loose agreement to band together.
"It's about trust," Phillips said. "It's about how we've looked each other in the eye. We made an agreement. We have great confidence and faith. Our board chairs have looked each other in the eye and committed to the same level of support and connection to one another. And our athletics directors have done that. If [a contract] is what it takes to get something considerable done, then we've lost our way."
The report of progress in the Big Ten's football scheduling could prove to be the first stage of "something considerable."
How would Penn State receive the change?
This one isn't particularly difficult to discern.
A frequent critic of the Big Ten's division imbalance, Franklin said the issue should be examined. East Division programs have now won each of the past nine conference championships.
"I've been told many times… historically, it all kind of evens its way out. I don't know if that's necessarily true," Franklin said. "We're not the only conference that has this challenge. I was in another conference that has a similar challenge. I do think studying the history of it is important. If you look since the beginning of football, what programs have been the most successful, I think you'd like to try to evenly split that up.
"Obviously there's going to be years where one side is better than the other. That's just the nature of it. But you'd love to try to split it up as evenly as you possibly can. I think that's the right thing for the conference. If we're trying to get as many teams into the playoffs as possible, that's in the conference's best interest."
Beyond that particular sticking point, Franklin would also likely be a proponent of moving to an eight-game conference slate.
Citing the Big Ten's nine-game schedule while other conferences kept an eight-game slate, Franklin said it was an inhibitor.
"If you're going to ask a group of men and women to go into a room and make a decision on who belongs in the playoffs, then everybody should be playing under the same criteria," Franklin said at the Big Ten Media Days in July 2019. "Everybody should be seven, or eight, or ten conference games. I don't care, but it should be standardized.
"Everybody should be in a conference, everybody should play a conference championship game. Everybody should play a FCS opponent or nobody should play an FCS. But if you're going to play nine conference games, and someone else is playing eight, mathematically, you're going to have more losses. I went to East Stroudsburg, I can figure that out."
Continuing, Franklin insisted then that more uniformity – which Wednesday's report would suggest a move toward at least for the Big Ten, ACC, and Pac-12 – was the best thing for college football.
"I'm not necessarily fighting for us to go to eight, but I think everybody should be the same. And I think we have seen, it's hard to argue, that the nine conference game has not helped the conferences that are playing under those circumstances," Franklin said. "It's perfectly fair for us to have an honest discussion about how do we see this thing moving forward? Either get some consistency across the board, or we're going to have to make some tough decisions as a conference."