Can Penn State win with Sean Clifford? Looking to 2019 for answers: BWI Daily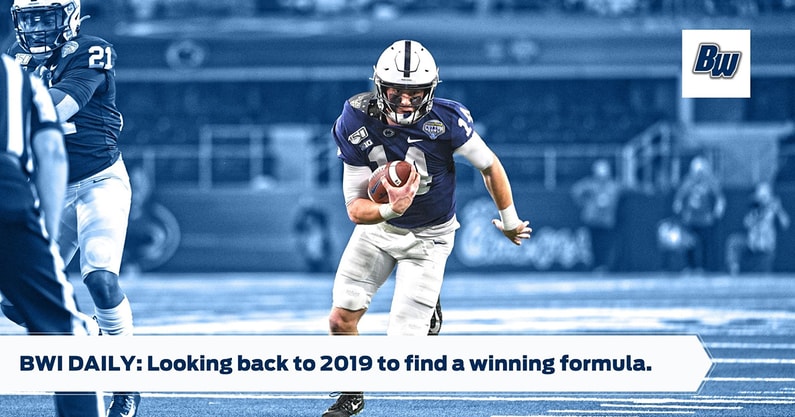 Penn State football enters the summer months trying to build a winning team for the upcoming season. But the man at the center of that effort, quarterback Sean Clifford, is a sticking point for most fans. How can the team win with a player that helped guide them to a roughly .500 winning mark over the last two seasons? 
Today on the BWI Daily Edition, host Thomas Frank Carr tries to answer both questions by looking back to the last time Penn State had a successful season; 2019. 
Sean Clifford in 2019 vs 2021
To start that examination off, he starts with the embattled Clifford. After all, he's one of the few holdovers from '19 and plays the most important position in football. So first, T-Frank dives into the PFF grades and numbers to see how the two versions of Clifford stack up. Then finally, he examines how Clifford's injury impacted his performance for Penn State last season.
Subscribe to the BWI Daily Edition on YouTube and wherever you get your podcasts. 
---
Three Penn State defenders with first-round talent and three that miss the cut
Penn State football has sent four players into the first round of the NFL Draft under Penn State head coach James Franklin. Earlier this week, I put together a list of offensive players with the physical profile to make it there someday if they develop correctly. Today, we'll look at the defenders who have a similar shot.
Curtis Jacobs
Unlike most of the players on this list, we'll start with why Curtis Jacobs might not be a first-round talent. Since 2019, no linebacker drafted in the first round weighed less than 230 pounds. Michigan's Devin Bush was the closest "small" linebacker at 5-11, 234. 
Most linebackers are getting smaller and quicker, but the NFL still prioritizes bigger, faster, and stronger in the first-round. This spring, the Penn State junior discussed how he focused on speed over size to accentuate his strengths. As a result, at 227 pounds, Jacobs would be the lightest linebacker taken in the draft. 
Yet, the other thing that each first-round linebacker over the last three drafts had in common was that they ran in the 4.50s for their 40-yard dash. Jacobs could easily break 4.49 when timed. 
He can also add weight back onto his frame during the draft process. He's played at 230 for Penn State and may be able to bulk up to 235 if necessary. If he can prove that he has the strength and skill to play in the box this season, his physical skills will get him the rest of the way.