Column: Penn State, James Franklin extension shows further commitment to football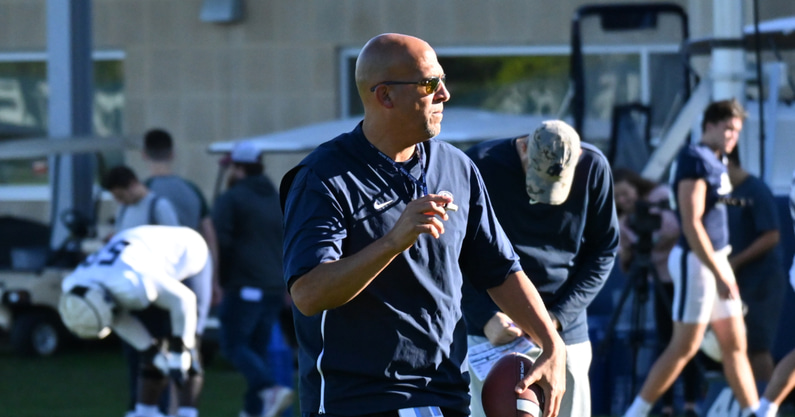 Penn State and James Franklin announced a 10-year contract extension Tuesday.
The deal includes annual compensation of $7 million per with a variety of incentives and runs through the 2031 season. All told, Franklin's yearly haul will be $8.5m. Buyouts, both for Franklin to voluntarily leave and for Penn State to fire him, shifted slightly to the university's favor. 
A difference of $3.5 million in combined compensation the next four years, the terms represent a raise of ~14 percent. On the whole, Franklin went from $28.5m under the terms of the prior contract to $32m on the new contract in that timeframe.
None of that is the point.
What matters for both Franklin and Penn State, instead, can be found in the accompanying statements made to the announcement. Terms approved by Penn State's Board of Trustees compensation committee late Tuesday afternoon, the agreement between the two parties was reached with long-term investment in the program in mind.
"We've been able to create a roadmap of the resources needed to address academic support, community outreach, Name, Image and Likeness (NIL), facility improvements, student-athlete housing, technology upgrades, recruiting, training table and more," Franklin said via statement. "This renewed commitment to our student-athletes, community, and fans reinforces all the reasons I've been proud to serve as your head football coach for the last eight years and why my commitment to Penn State remains steadfast." 
Yes, the commitment from Penn State toward Franklin in the contract is a vote of confidence in his leadership.
Considerably more important than the value of guaranteed compensation to Franklin, it is a further, significant vote of confidence from Penn State toward its football program.
Franklin's aim has long been that of seeking that of deeper institutional investment. And he has done so from the onset, pounding the table as early as his first spring on the job. Stressing the need to create the type of atmosphere to which the best personnel gravitates, his objectives were clear for Penn State.
That's recruiting the best high school football prospects, first and foremost, as well as the assistant coaches and support staff who fill out what is inarguably the largest collective operation in all of organized sport.
"It's funny because we talk about facilities and I think people take it the wrong way," Franklin said then. "If you look at Google… they are spending a tremendous amount of resources on creating a great work environment. 
"Why? Because you got the best chance to get the most production out of your players, out of your staff. You create an environment where people want to come to work every single day… all those small details are really what give you a chance to be successful over the long haul."
In the formalization of Franklin's renewed contract, the two sides took another step toward reaching those goals.
While Penn State and Franklin didn't produce a concurrent picture of what the program's roadmap entails, comments made by Franklin in recent years should provide some hints. Already in progress on a nearly $50m expansion to the Lasch Building weight room, Franklin's statement including "academic support, community outreach, Name, Image and Likeness (NIL), facility improvements, student-athlete housing, technology upgrades, recruiting, training table and more" clarifies additional needs to be undertaken.
All important components to signaling a fundamental commitment to success at the highest levels, Penn State's path forward, regardless of the duration of Franklin's tenure with the program, remains tied to those advancements. The sooner, the better, too. 
Expressing her excitement over maintaining Franklin's position of leadership to guide the program forward, Penn State athletic director Sandy Barbour's statement echoed that necessary commitment.
"We will continue our collective efforts to constantly improve in all aspects of our program. We have made, and will need to continue to make, significant investment in our football program because we believe we have a very bright future under James," Barbour said. "With this contract, we are signaling our sustained commitment to being one of the premiere programs in the history of college football. Our goals and aspirations relating to football have never wavered and our investments today and in the future of our program will allow us to compete at the highest level."
At a Penn State program with experience and success in that realm, in a modern landscape of college football operating as fundamentally competitive as ever, a consistent return to that level demands it.
A renewed commitment to the man charged with forging that path back, Penn State's winning mindset foundational to getting there, from all parties involved, now must carry through.