Drew Shelton burns redshirt as he, Penn State freshmen, shine in Lions' win over Rutgers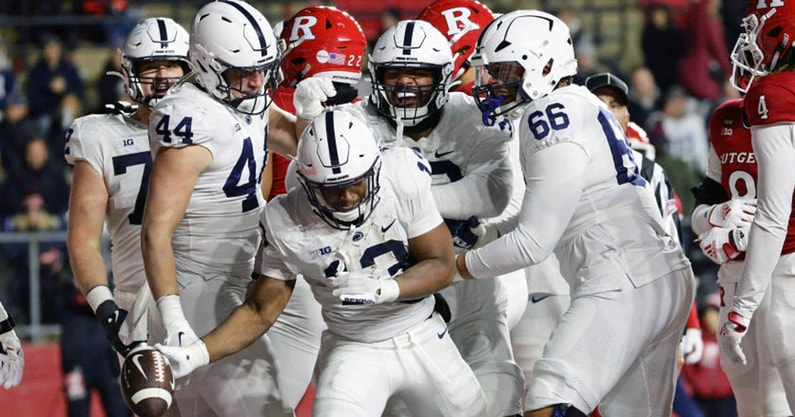 PISCATAWAY, N.J. — Penn State left tackle Drew Shelton burned his redshirt on Saturday at SHI Stadium as he again started at left tackle and helped push the Lions to a 55-10 win over Rutgers.
The former four-star recruit played in his fifth game, which put him over the eligibility-saving threshold. He and his classmates again had a major impact on the Lions' ninth win of the year. Nicholas Singleton had a 100-yard kickoff return for a touchdown. Kaytron Allen carried 11 times for 117 yards and a score. And, Drew Allar, Omari Evans, Abdul Carter, Cam Miller, KJ Winston, Zane Durant, Dani Dennis-Sutton, Kaleb Artis, and Alex Bacchetta all played.
All played well. But, Shelton has the toughest job of all. He is being asked to play arguably the most challenging position on the field, left tackle, just 11 games into his college football career. But, by many accounts, he's thriving despite his age and lack of experience compared to Olu Fashanu, who is out with an injury, and other players who man his spot across the country.
"Drew Shelton is a beast," quarterback Sean Clifford said. "Honestly, he came in super light. He knew it, too. He's an athletic guy. He played all the sports in high school and whatnot. And he's a really good player. But, he came in and he knew he had to work. He knew he had to get better. And I think that everybody knew once he came in, that he had the potential to contribute if needed, and we're late, late in the season now, and it's needed.
"He's stepping up, and I can't be more proud of him. I know. I talked to him a lot, just trying to keep his head in it and continue to grow and get better. Because, realistically, he's going to be a really good player."
Added starting guard Saleem Wormley:
"He's become more confident in his role. He's starting to understand more of what he has to do. He was already very intelligent. That's why he's able to come out and start at left tackle. But, to confident in his steps, to know exactly he has to do, he's starting to get into that more."
Did Penn State have a choice to burn Shelton's redshirt?
Entering the game, head coach James Franklin had talked about the decisions that would have to be made about burning redshirts over the final three weeks. Sometimes, the team has a choice. In other instances, bumps and bruises won't allow. What was the situation for Shelton and Penn State?
"We had a bunch of conversations," head coach James Franklin said. "We were going to start JB [Nelson] at tackle this week. And, we still would have been in a tough spot with JB as well based on games [played before burning a redshirt]. Had a conversation, had a conversations with Drew's mom, and had a conversation with Drew. He wants to play.
"We feel like he gives us the best opportunity right now. And, playing seven games as a true freshman, with a good percentage of them as the starter, that's a worthwhile burned redshirt if that makes sense."
Franklin is right. And, Penn State is fortunate that Shelton has grown up and progressed so quickly so that he was ready to fill Fashanu's sizable shoes.
A note on Alex Bacchetta
We'll close with this. Penn State used Alex Bacchetta in the second quarter because starting punter Barney Amor was struggling. He did well, but the Lions eventually went back to Amor, and it proved to be the right call, as he thrived after the brief benching. It remains unclear whether a rotation might be in the cards moving forward, though.
"We'll see how it works out with Bacchetta," Franklin siad. "He's got a really strong leg. When he hits his 'A' ball, it's as good as anybody. So, we'll continue to evaluate that. It was great to see Barney handle it the right way and then come back in and hit a [58-yarder], which was huge. So, maybe that was the right thing. Maybe I should did that earlier. But that was positive."