Four-star Penn State pledge DaKarri Nelson talks commitment status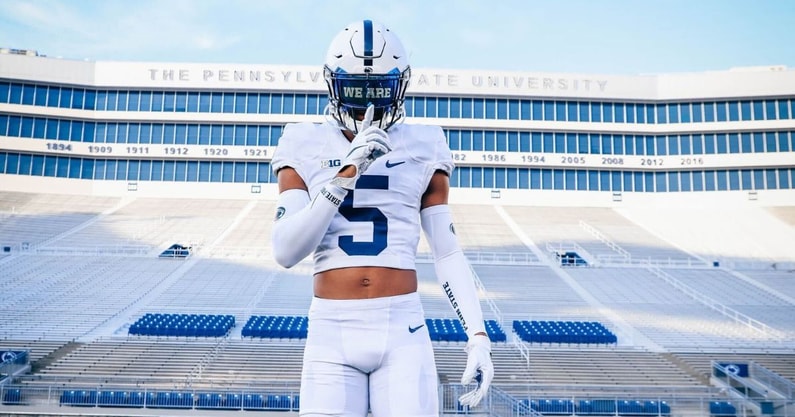 Selma (Ala.) safety DaKarri Nelson is set to sign with Penn State next Wednesday. The four-star prospect, according to the On3 Consensus rankings, got a visit from Nittany Lions head coach James Franklin, safeties coach Anthony Poindexter and running backs coach Ja'Juan Seider earlier this week and he has now shut it down heading into National Signing Day. 
"I'm locked in, for sure," he told BWI on the Friday edition of the BWI Daily. "For one, the way they treated my family both times I went up there. I've got three little sisters from ages 4-12 and both times I went up there they made sure that they got what they wanted or needed, no matter what.
"Then, for two, the way that coach Poindexter produces and develops athletes my size and at my position, that played a big factor in my decision."
Nelson visited a pair of SEC schools this fall
Nelson went on an official visit to Ole Miss in November and admitted that he has remained in contact with some SEC schools. Still, he didn't waiver from his original summertime pledge. 
"Really just giving every school that last chance, basically," he explained. "Even before I committed, I knew that it was always Penn State. But this is a life-changing decision, so you basically want to give every school that's still trying that last chance. It's, I'm [going to] come, but I want you to know that I'm locked in [to Penn State], so you're going to have to up your game to get me to change my mind."
One of those visits was to Auburn for the Nittany Lions' visit down south back in September. While he was a guest of the Tigers, Nelson said that he enjoyed Penn State's 41-12 win from the stands. 
"It was great," recalled Nelson. "With me, where I'm from, everybody on this side of Alabama is an Auburn fan. So me going into that game knowing I'm a Penn State commit sitting around [a bunch of] Auburn fans, I was happy for the team but it felt weird, kind of. Every play that we made, I was ready to jump out of my seat and everybody was just looking at me every time Penn State did something good."
Penn State plans to play him at safety
The 6-foot-3, 194-pound safety recently showed out in the Alabama-Mississippi All-Star Game, according to On3's Charles Power. Nelson checked in at No. 10 on his Top Performers list last week. 
Penn State safety commit DaKaari Nelson caught our eye with his plus size and range as a run defender. Nelson is the biggest of the Alabama defensive backs, looking around 6-foot-3, 195 pounds. He drew praise from the coaching staff on a number of occasions for his effort and effectiveness in pursuit drills. We also saw Nelson close on play and break up a pass in 11-on-11 work in Wednesday's morning practice. It will be interesting to see where Nelson ends up from a size perspective after he spends time in a college strength program, given his size and frame.
Nelson is the No. 232 prospect nationally and the No. 14 safety in the country. He's the No. 17 prospect in Alabama in the Class of 2023. Nelson committed to Penn State on June 25.