How can Marques Hagans boost Penn State recruiting? BWI Daily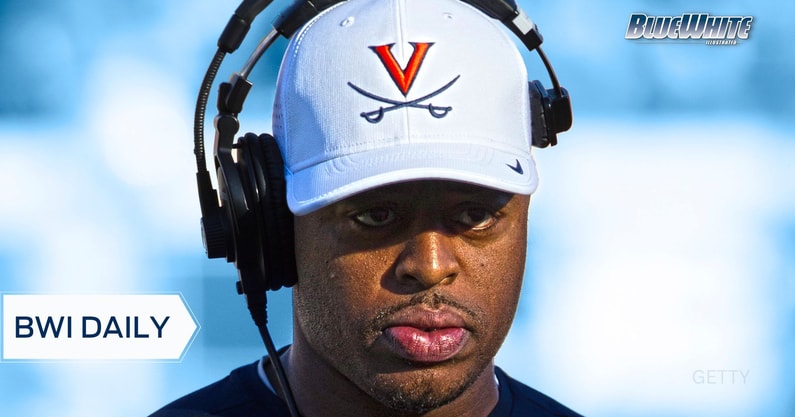 Time for our weekly Penn State recruiting update presented by our friend Andy Luedecke at MyPerfectFranchise. Andy is a huge college sports fan and franchise veteran, having owned multiple franchises and businesses. Using his expertise, he helps others find their American Dream through a very thorough consultation and evaluation process.
---
Blue White Illustrated broke news Monday morning that Penn State has found its next receivers coach. Head coach James Franklin tagged Virginia assistant head coach and receivers coach Marques "Biscuit" Hagans to fill the same position with the Nittany Lions. Hagans survived two coaching changes at Virginia and had been in his current position since 2011. Today on the BWI Daily recruiting show, insiders Ryan Snyder and Sean Fitz discuss the recruiting implications of hiring Hagans. They'll also highlight the notable players that attended Penn State's junior day on Saturday. 
As always, subscribe to Blue White Illustrated on YouTube, so you don't miss the show. If you want to get your questions on the BWI Mailbag Show, submit a five-star review with your question on Apple Podcasts. 
Can Penn State get even more talent from Virginia with Hagans?
In the show's first half, Snyder and Fitz take a deep dive into Hagans fit with the Nittany Lions as a recruiter and developer. Then, they draw some parallels between his best players at UVA and how he was able to help them, highlighted by Olamide Zaccheaus, now a starter for the Atlanta Falcons. 
But because it's a recruiting show, they dive deeper into that element of his hiring. Penn State has done very well in Virginia over the last several cycles. Yet there's one talent-rich area they haven't been able to mine successfully, and it's one that Hagans knows well. So they discuss which recruits in the upcoming class he could help Penn State land from the region and what other players outside of receiver he could sway. 
Junior Day attendance much better than anticipated
Finally, they dive into the latest junior day for Penn State football. The list surprised both Fitz and Snyder, who expected a lower turnout for the second of the team's three junior day events. Instead, several high-level athletes, including a top-25 player in the upcoming class, made the trip to Happy Valley. Find out which 2024 and 2025 players stood out to BWI's recruiting experts. 
---
Learn more about Andy Luedecke and franchise ownership through these resources:
Andy's Story
Why a Franchise
Service Based vs Brick and Mortar
Semi Absentee Ownership
The Process and How It works
email: [email protected]
Book time with Andy:  Andy's Calendar