James Franklin delivers B1G playoff push, personnel news: Notebook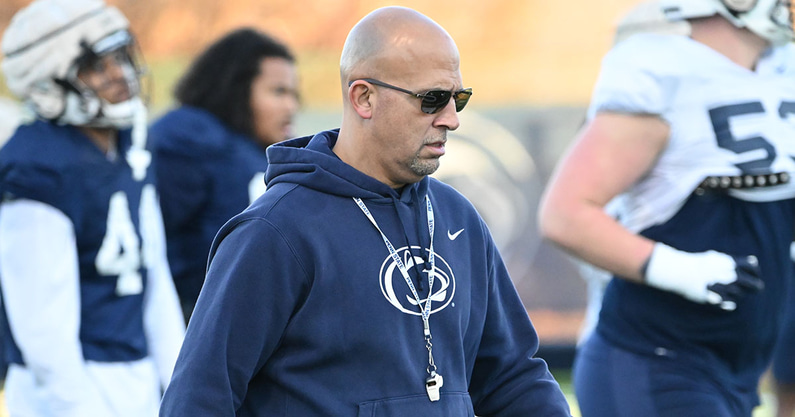 Penn State head coach James Franklin met with the media Wednesday evening from Holuba Hall. His Nittany Lions had just wrapped up their midweek practice session outside at the Lasch complex. 
With Michigan State on tap this weekend, Penn State's final game of the regular season, Franklin was asked about topics with immediate and long-term implications for the program.
Here, getting into the news, notes, and observations to emerge from Franklin's post-practice session:
James Franklin's post-practice notebook
Keyvone Lee return?
Asked by a reporter about Keyvone Lee, having missed all of Penn State's games since an Oct. 15 trip to Michigan, Franklin said that the veteran running back was still a wait-and-see situation as game day approaches.
"We'll see. We'd love to have him back," Franklin said. "Those are medical decisions. I think it'll be more of a game-time decision and things like that. 
"There's been some weeks where we thought he was going to be back. It hasn't played itself out that way. So, we're just waiting for the medical staff, to get the full clear go from the medical staff."
Lee is fourth on Penn State's rushing chart for the 2022 season behind Nicholas Singleton, Kaytron Allen, and Sean Clifford. In this, his third season in the program, Lee has played in five games, carrying the ball 25 times for 94 yards. He also has Penn State's game-winning touchdown reception late in the fourth quarter at Purdue on Sept. 1.
The playoff chase
Franklin, quite evidently, had more he would have liked to say when asked about the College Football Playoff and the implications of this weekend's battle of unbeaten teams between No. 2 Ohio State and No. 3 Michigan. 
Asked about the game and what it might mean for two conference teams to get to the CFP the winner heading to the Big Ten Championship Game, and what that might mean to Penn State, Franklin hinted at a dissatisfaction over the narrative surrounding that possibility.
"Yeah, I'm aware. There are a lot of things, like other teams being in the top 10. There are a lot of things that I think the Big Ten should be pounding the table and promoting like the other conferences," Franklin said. "I've been in that conference. I know they are pounding the table, promoting through a lot of different resources. 
"I'm aware of what's going on, but I'm focusing my energy on beating Michigan State and playing well and hopefully that takes care of itself. I got a lot of things I could say right now, but it's probably not appropriate."
Likely referencing Tennessee's place at No. 10 in Tuesday night's reveal of the CFP rankings, a two-loss Volunteers program remaining in front of Penn State despite a blowout loss at South Carolina last weekend, Penn State will need to wrap its season with a win against a 5-6 Michigan State program on Saturday. 
'A parent at practice'
Franklin made sure to point out, when asked about Donald Driver's presence at Wednesday evening's practice, that many other player parents were also on hand. 
Previewing Tuesday that many families come into town for Thanksgiving and stay through the weekend, that reality took shape Wednesday as the Green Bay Packers great receiver checked out his son, Cristian Driver, running through routes with the Nittany Lions' other wideouts. 
Asked about him being a resource, Franklin noted that, living in the Dallas, Texas metropolitan area, the elder Driver's presence was an anomaly. 
"Obviously with his football background, he can kind of navigate the field and know where to go and where to be and those types of things, but it's just a parent at practice," Franklin said. "He's got a different experience. Talking to our team, and things like that, whether it's as a player or whether it's the Super Bowl or as a businessman, he's done a great job in a lot of different areas. We've got a bunch of different parents with different backgrounds. The only difference with him is it correlates strongly with what we do day in and day out."
James Franklin's Drew Allar balancing act
At one point in practice, rolling left to throw deep passes in a drill specifically for Penn State's quarterbacks, true freshman Drew Allar slipped and fell on the practice turf. 
Able to pop back up unharmed, the incident drew the laughter of teammates. But, it also prompted a question for Franklin about the balance of how to handle Allar, the heir apparent at quarterback for the Nittany Lions next season, between gaining experience and staying healthy.
"You got to be smart and strategic about how you practice and what you do. But I don't think you can live the way you described it (as keeping him in bubble wrap)," Franklin said. "You got to be strategic and you got to have a plan. And obviously, you don't want to take on more risk with any of our guys than needed. 
"There's some risk involved in our game, there always will be. Whether it's practice or games or whatever it may be, all of those risks have to be factored in. Whether you're going full speed, whether you're going live, whether you're going thud, whether you're going tag off. Whatever it may be, all those things kind of factor in for all our guys at really every position. And after that, you just kind of live with it. You'll drive yourself crazy if you try to do that. And not only that, you won't get the guys prepared the way they need to be."
Allar has completed 35 of 59 pass attempts this season for 344 yards and four touchdowns, appearing in nine of the Nittany Lions 11 games.