James Franklin explains why adding off-field staff is important at Penn State and everywhere else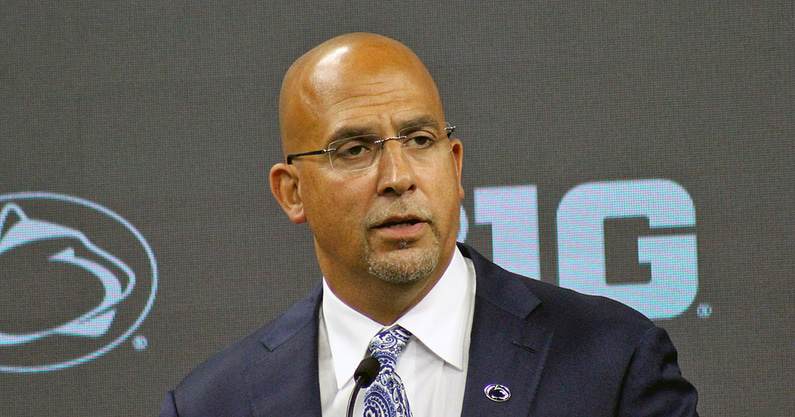 Penn State added another off-field staff member on Tuesday when former Central Michigan offensive coordinator Charlie Frye was brought on board as an analytics coordinator. In fact, if you look at the program's online directory, you'll see that the list of staffers is longer than it was as this time a year ago.
College football powers have long been in a race to require more of everything. The wants range from support staff members to recruiting department personnel to name, image, and likeness money, facilities, and just about everything in between.
The Lions, of course, are focused on ramping things up in all of those areas. New athletic director Pat Kraft has prioritized improving the school's NIL situation. A new expansion to the Lasch Building is almost complete. And, head coach James Franklin's new contract, among other things, has helped the program replace departed analysts while also creating new positions.
That last part may feel unnecessary. But, there is a reason SEC schools have long prioritized it. Those analysts won't make an obvious impact on game day or in the recruiting world to many. But rest assured that the results you see have their fingerprints all over them.
"If you look maybe five years ago and before, one of the major concerns, probably with athletic directors and presidents and things like that, was staff size," Franklin said. "That was a big discussion in college football. But, then the rules changed in a way that you have no choice but to increase your staff size."
Why building a bigger staff is important at Penn State and everywhere else
Penn State currently lists nine analysts on its football staff. And, there are probably a few others, like former NFL coach Ken Whisenhunt, floating around the Lasch Building who are not on that list. Their roles are mostly undefined publically, and that's likely because they are intentionally ambiguous. After all, this group should be set up to be a jack of all trades.
In the offseason, they might spend weeks self-scouting the Lions, looking for tendencies and other good and bad areas on offense, defense, and special teams. They can also play a role in electronically communicating with recruits and interacting with them on campus.
Later in the year, they'll devour spring and preseason camp practice film looking for improvements. And, of course, they have a large role in game planning and advance scouting. After all, the planning for Ohio State doesn't start on the Sunday before the Buckeyes visit Beaver Stadium.
There is a player improvement component, as well. Think of the knowledge someone like former Penn State great Dan Connor, who is now on staff, can pass on to the linebackers directly or to defensive coordinator Manny Diaz about things he sees on tape.
Ultimately, the analysts are a catch-all in many ways. And, the more the merrier as college football continues to swell its calendar.
"Like, you look at the summer," Franklin said. "If you are spending the time that you should be with your current roster and players, helping them academically, athletically, socially, but then at the same time, you're also having to have high school camps and 7-on-7s for the future of your program, and then now we have official visits in the summer, and these are all happening pretty much the same weekends, you have no choice but to develop these other groups or entities within your program.
"Whether it's recruiting, whether it's roster management; the way the model is evolving you almost have no choice but to do it that way."