James Franklin identifies unique Penn State 'combination' on D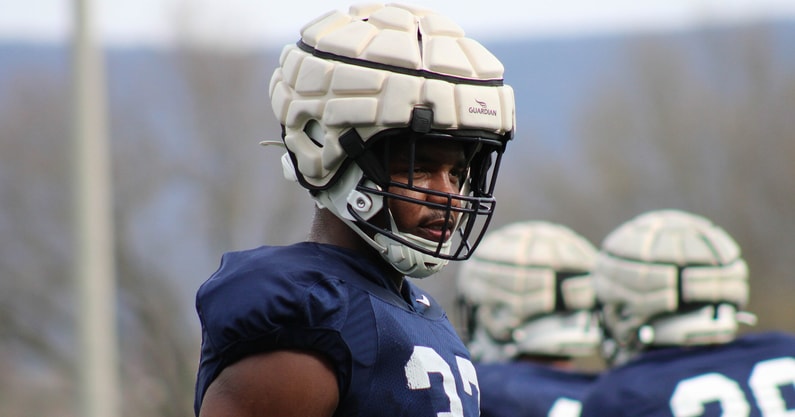 Penn State head coach James Franklin has been high on the Nittany Lion defense heading into the 2023 season. Throughout the spring, he acknowledged the unit's potential and its strengths littered all over the field.
In a Thursday appearance with On3's The Hard Count with J.D. PicKell, though, Franklin upped the ante. 
Recounting a recent examination of the depth chart Penn State defensive coordinator Manny Diaz will have at his disposal during the upcoming season, Franklin said a new reality emerged. Within a group that has multiple players garnering national preseason attention, quality can be measured in a variety of ways.
"I walked down to the defensive staff room the other day and I was kind of looking at the depth chart on the board. And I just don't remember us having the depth and talent that we have this year on the defensive side of the ball," Franklin said. "We've had some really talented defenses. But, I just don't know if we've had the combination of depth and talent that we do this year."
Penn State defensive potential
At the forefront of the notion, Penn State has a group of defensive ends Franklin believes have an opportunity to be "really good" this season. 
Led by a trio of players all boasting both talent and experience, the Nittany Lions are expecting to see wide-ranging dividends from their impacts. 
As a result, though PicKell pointed out the household name status reserved for both linebacker Abdul Carter and Kalen King at cornerback, Franklin countered quickly with the best of the defensive ends. 
"The other guy that everybody's talking about is Chop Robinson," Franklin said. "He is a defensive end for us who played really well last year. And, his name is buzzing around nationally. But there are really a ton of guys. 
"Adisa Isaac, another defensive end that we have, I think he's gonna have a big year. A guy who played for us like Abdul last year, Dani Dennis-Sutton, the defensive end, is gonna have a chance to have a really big year for us."
Penn State finished among the national leaders in sacks last season. Finishing with an average of 3.31 sacks per game, the Nittany Lions were first in the Big Ten for the year and fifth nationally. 
Other standouts
While Ji'Ayir Brown, P.J. Mustipher, Jonathan Sutherland, and Joey Porter Jr., were among Penn State's biggest defensive contributors last season who are now embarking on NFL careers, Franklin also pointed to other Nittany Lion defenders with experience returning to high expectations this season. 
"Curtis, our outside linebacker has played here for three years, played extremely well," Franklin said. "I think he's going to have a huge year for us. 
"And, one of the things that was big is, across from Kalen King, Johnny Dixon had a great spring. So I can go on and on, to be honest with you."