James Franklin "impressed" with Lasch expansion, eyes what's next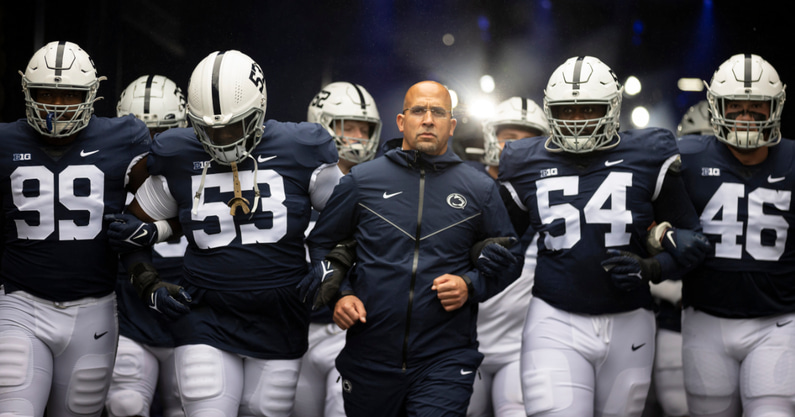 James Franklin was tackling all of the big-picture items at this week's Big Ten Media Days. With name, image, and likeness exploding and athlete benefits now dominating the conversation, the Penn State head coach discussed at length all of the avenues in which competition is critical.
"The reality is, where we have been and where we are going, you got to compete in every area. There's not one area that you can say, 'Well, we don't need to compete in that area.' It's every area," Franklin said. "The margin of error is so small."
Later this summer, the Penn State football program will take another big step toward minimizing that margin
At work on a state-of-the-art weight room and training facility as part of its Lasch Building expansion, the program will soon have some long-sought amenities rivaling other top college football programs. Among the improvements are new weight equipment, turf areas in the expanded weight room, with performance enhancement equipment, and sports medicine upgrades coming, too.
At the moment, though, the area is still very much a construction site. Abuzz with cranes and trucks and yellow vests, the effort continues as Penn State nears the start of its preseason practices on Sunday.
Even so, nearing the completion of a hard-fought project to improve the Penn State football program's infrastructure, Franklin acknowledged his excitement for it this week.
"We've made some great progress. So I'm excited about what we'll be moving into from a training table, from a nutrition area, and a weight room perspective this summer," Franklin said. "We're a little bit behind schedule, but it will work out well. I actually had an opportunity to walk through it the other day and was very impressed."
Franklin's positive reaction is not a sign of a job finished, though.
Arguing his belief, for years now, that the success of Penn State's football program can and does lead to the success of the department's other sports, his push has been to invest significantly. Concurrent to pressing needs in the life cycle of the program's facilities, that investment, in turn, is something he expects to pay dividends.
"The more yeses that you get in the offseason, or the more battles that you win that are away from the obvious things that people see, whether it's games on Saturdays or whether it's recruiting rankings, there are battles happening every day on college campuses," Franklin said. "And the more of those that you win, that are in the best interest of the football program but also in the best interest of the university… So the success of the football programs on our campuses is imperative. And when that happens, all ships rise."
Maybe more important, Franklin's path to that effort has admittedly been aided significantly by the hiring of new Penn State athletic director Pat Kraft.
Zeroing in on renovations still to be completed in the immediate term, Franklin offered his insight into what's left until Penn State football's full-time home is where it needs to be.
Having addressed the entirety of the first floor with the weight room project and back players' entrance to the building, Penn State has also knocked off all team meeting spaces, hydrotherapy areas, the front lobby, and nearly everything in between.
Still, there is more work to be done, he said.
"We still have not touched our second floor, which is where the coaches are. Except, we did get carpet. We've gotten new carpet in the last 30 years. So that was a step in that area," Franklin said. "But that was very important to me when we came to Penn State that we take care of the players' areas first. So I think the plan is right now that at the end of the season, we would finish that last stage of our Lasch Football Building and then kind of go from there. 
"The good thing is, me and Pat have been aligned throughout the entire process of things that he feels strongly about, I agree with, and vice versa. So that's been very helpful."