James Franklin press conference news, notes and observations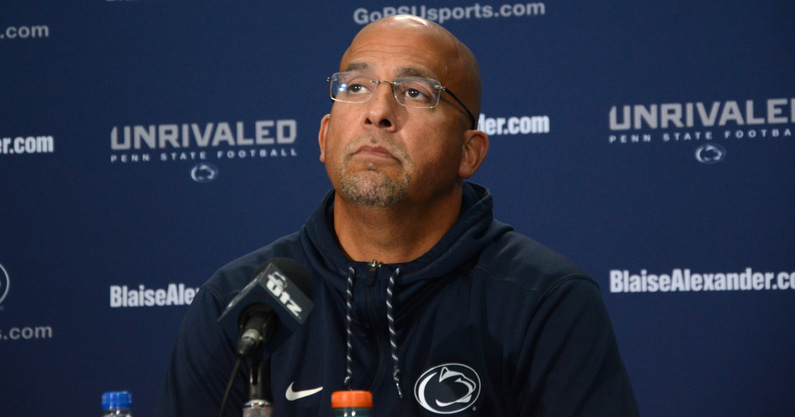 Following a 41-12 dismantling of Auburn on Saturday afternoon, Penn State head coach James Franklin said he'd enjoy the win for a few hours. Tuesday afternoon, returning to the Beaver Stadium podium for his weekly press conference, Franklin's statement strained credulity. 
Now 3-0 on the 2022 season, having passed two difficult road tests, Franklin produced his most relaxed, confident, genial media interaction in some time. The No. 14 Nittany Lions are in an enviable position, they put in the work to get there, and Franklin and the program as a whole know it.
Franklin's ability to offer a loose, informative, forthcoming Q&A and a loss of focus are not the same, however. Looking to build on Saturday's win, with an eye toward Central Michigan this weekend back at Beaver Stadium and the opportunity to maximize the program's early season success, Franklin had plenty to say about Penn State, the players who have made a big impact so far, and what's next. 
Here is a look at the pertinent news, notes, and observations to emerge from Franklin's press conference in our weekly wrap-up:
Complete James Franklin press conference
James Franklin press conference notebook
Putting a bow on Auburn
Certainly, Franklin's top-of-mind rundown of Penn State's performance at Auburn was positive. He knocked out all of the significant data points, citing the turnover battle (+4), drive start, sack battle (+6 for, 0 against), and explosive plays on offense (11) as wins. 
Penalties and explosive plays on defense were the two losing elements head-to-head and his areas to improve upon. 
Franklin did offer some more insight into the failed fourth-and-1 that took place on Penn State's first offensive series of the game. Noting that it was a critical situation, the aggressive approach on fourth down that has benefited Penn State to this point in the season didn't necessarily result in a negative. 
"Our defense, having the offense's back, holding them to a field goal, I felt like that was a critical situation in the game," Franklin said. "We had a big discussion as a staff before the season started. Actually, had a big discussion with the team as well, about how we wanted to handle fourth down, because it's not an offensive decision, it's not a defensive decision, it's a team decision that we all factor into. Special teams as well."
Penalties, plus kickoff and punt locations, were Franklin's "areas for growth" coming out of the game. 
Central Michigan prep
The only time Franklin talked about Penn State's opponent this weekend was in his opening remarks. 
Certainly, coming off the start of the season, both for the 3-0 Nittany Lions and 1-2 Chippewas, the gloss-over treatment ahead of this game (from the media, at least) is relatively understandable. 
That didn't prevent Franklin from offering his earliest impressions of what Penn State will be facing this weekend, though.
Franklin picked running back Lew Nichols out first as someone the Nittany Lions have "been impressed" with offensively. He called quarterback Daniel Richardson "undersized" but "very productive." And, in the passing game, transfer receiver Jalen McGaughy (6-4, 225 from Ball State) wrapped up his players to watch. 
On defense, Franklin pointed to defensive end Thomas Incoom (4.5 TFL, 3.0 sacks so far this season), sophomore safety Trey Jones (16 tackles, 1 INT), and sophomore corner Donte Kent (10 tackles, 3 PBU) as his players to watch. 
On special teams, punt returner Jordyn Williams was a player Penn State "needs to be aware of." He has averaged 7.87 yards per attempt on eight chances this season with a long of 25 yards. 
James Franklin press conference odds and ends, jumbo-sized
It was an odds-and-ends kind of afternoon for Franklin. His asides and one-off comments were sprinkled throughout the press conference, making for a robust section this week.
– The 1982 National Championship team will be honored at halftime on Saturday in this, the 40th anniversary of the season. 
– The "hard-hit hammer" is Manny Diaz's idea. The point, along with the "finisher" award on offense, is to "reinforce the physical aspect" and to "emphasize toughness."
– Franklin's comments on Brenton Strange offered a window into his thoughts on annual national awards.
More specifically, his comments delegitimized some of the superficial aspects, pointing to Jordan Stout's clear worthiness as the nation's top punter last season. Strange, meanwhile, he said "is playing as good as any tight end in the country," through the first three games this season.
"I think Brenton is playing really well-rounded tight end play right now. I think the real true football people understand that. And I think that's going to help us throughout this year offensively."
– The Eli Manning/Chad Powers stunt was a prevalent and frequent talking point on Wednesday. We won't spend much time on it. But, Franklin acknowledged its importance as an opportunity to have fun while not distracting from the program's goals.
– Reading between the lines, true freshman receiver Kaden Saunders won't play this week. He's likely headed for a redshirt and they want to preserve two games as the season progresses. 
"We talked about a guy this morning that has played because maybe there has been some bumps and bruises and he's done okay. But we still think the best thing to do is probably to redshirt him if we can," Franklin said. "This young man has already played in two games. I would've liked for one of the games to be this week. But because of some injuries, we had to play him earlier."
The options among true freshmen who have played two games are Saunders, corner Cam Miller, and safety KJ Winston. Franklin talked about progressively increasing roles for both Miller and Winston this season during his radio show last Thursday. 
More James Franklin odds and ends
– Talking about Kaytron Allen's body transformation, now listed at 201 pounds in the latest Penn State roster update, Franklin diverted attention to another huge shift. 
And, in this case, it's also on the weight loss trajectory. True freshman offensive lineman Maleek McNeil is now listed at 6-foot-7, 336 pounds.
"I think he's lost like 47 or 50 pounds since being on campus in not a long period of time. That's really without us even emphasizing it," Franklin said. "I think he went from 381 to whatever that number I said is less.:
– The note was impossible to miss from Franklin at the very end of his press conference. And, of course, very intentional. 
Talking about Dani Dennis-Sutton's recruitment, Franklin brought up the true freshman DE's experience living in dorms as an out-of-state enrollee at McDonogh. And, in the process, he brought up a lost recruit due to not having single-occupancy, nice dorms.
"A lot of schools that we recruit against either have athletic dorms or football-specific dorms," Franklin said. "Auburn just built a football dorm, which people are going to say you're not allowed to do that. There is a way to do it within the rules and still get the same thing accomplished."