James Franklin updates position battles, standouts, more: Video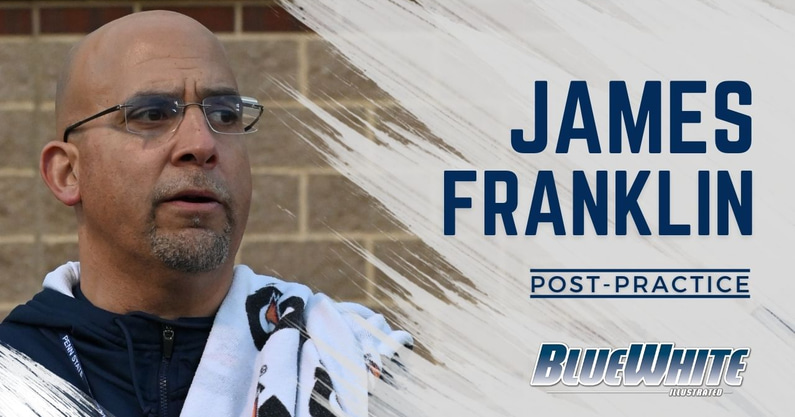 What did Penn State head coach James Franklin have to say following Penn State's fifth practice of the spring?
He met with reporters for about 12 minutes Wednesday evening following the Nittany Lions' practice. Just outside Holuba Hall, where the team had just wrapped practice in the afternoon, Franklin talked spring breakouts, position battles, and more.
Watch James Franklin's complete press conference here:
James Franklin press conference partial transcript
Franklin on the young running backs:
"Obviously we got a pretty good feel who the vets are. We need them and expect them to take a step this year.
The two freshmen have been impressive, really since they've shown up on campus. Kaytron (Allen) is very football smart. I think his experienced at IMG has put him ahead in terms of just college level learning, experience and understanding defense and protections and things like that.
"And then Nick (Singleton), as you guys have seen some in the weightlifting sessions and some of the announcements on social media, he's been pretty impressive. He's got tremendous burst, powerful, strong in pass protection. So we've been impressed so far.
"And I think, to be honest with you, I think O-line and tight ends are doing a really nice job, so you're able to see them a little bit more right now. There have been some good things."
Franklin on the offensive line:
"Our numbers are real low. This happens from time to time. We have a bunch of guys that have kind of moved on. So our numbers are low. We have answers for training camp, but right now there's not a whole lot of answers. Even when we do our run on tryout, typically you can get most positions except for O-line. Just not a whole lot of those human beings walking around the planet, let alone on Penn State's campus. So we're light there.
"But I think Olu (Fashanu) has been really good. He's been really impressive. Juice (Scruggs) has been really impressive, looks comfortable. I think his best position is at center. End then Caeden (Wallace) staying at right tackle, but there's flexibility with Caeden at left tackle as well.
"Those guys are probably the guys that we feel the best about right now. But that doesn't mean we're not pleased with other guys. But there's probably still more of a competition at the other positions for right now."
Franklin on how a guy breaks out in the spring:
"He sticks out. So whether it's a guy that makes significant jumps in the weight room and their numbers bring attention to them. Whether it's guys out here on the field.
"I think Zakee (Wheatley) is an example. He did some really nice things for us at corner. We felt like safety would probably be his best long term position. But starting him at corner and the confidence that comes from kind of being out there on the island we think is valuable. And right now, he just seems to find the football. The ball likes him. He likes the football. And he's kind of standing out right now.
"Zane Durant is flashing at a position that's usually hard to flash at as a freshman at defensive tackle. He's just strong and explosive. He's got great lateral movement.
"It shouldn't be that hard. It's the guys that there's a buzz about from the players and the coaches. They just kind of keep jumping out, making plays physically, but also they're able to keep up with it mentally. Because some guys I think physically may be able to help us right now but they're behind mentally and they're going to need this spring and this summer to give themselves a chance. And then there's some other guys that physically are just behind.
"One of the things I think we're doing a better job of, which I think I've mentioned to you guys before is, and I'm ashamed to say it, but taking advantage of the Zooms now. So like the guys at home like Dani (Dennis-Sutton). Dani is not able to be here right now, but we're able to meet with him, so now he's got a chance mentally to be as far along as these guys are and now it's just a physical aspect."
BWI's Penn State March 30 Practice Coverage
Penn State football spring practice news and notes: Inside the Den
Young defensive back flashing in spring practice for Penn State football
Penn State offensive coordinator Mike Yurcich talks young quarterbacks, areas Sean Clifford can improve