Jaquan Brisker a 'favorite' of NFL analyst; starting role on tap?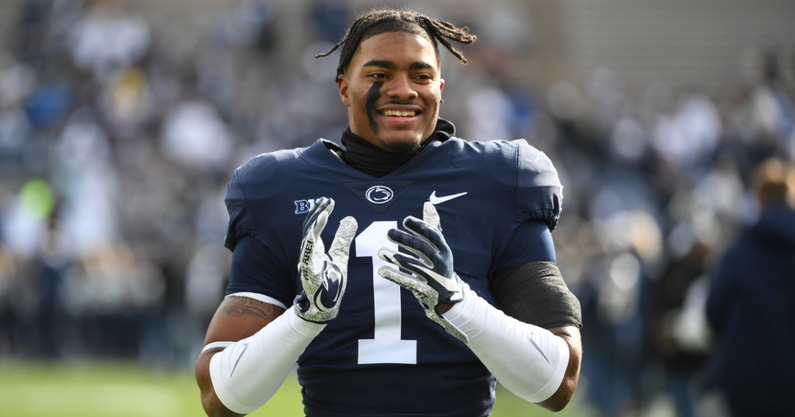 The fan base for former Penn State safety Jaquan Brisker is growing. Selected by the Chicago Bears in the second round of the NFL Draft last month with the 48th overall pick, he's already been through his rookie minicamp.
And with the dust settling on the pick, at least two NFL analysts see a win for Brisker and the Bears.
Joining former NFL player and media personality Ross Tucker's podcast this week, draft analyst Greg Cosell offered his thoughts on the picks made by NFC North teams. And from the jump, Brisker was a primary topic of conversation.
"Brisker was one of my favorite players as an overall player," Cosell said. "I think the reason he went in the second round is because he's not an explosive type athlete. But, he struck me as a complete multi-dimensional safety. 
Very much when I watched his tape did I get thoughts of the Micah Hydes and the Jordan Poyers. Guys who can be interchangeable safeties. Play in the box, and have some man-to-man ability because Brisker has corner experience. Play on the back end. I think he's just a really solid player, smart player, aware player, just not a twitchy, explosive athlete."
Jaquan Brisker NFL fit
Cosell isn't alone in his analysis of Brisker.
ESPN analyst Matt Bowen, a former defensive backs coach and NFL vet, outlined the best team fits for rookies around the league this week. And, within the piece, Bowen didn't hesitate to point to Brisker and the talent he brings to a Bears defense that can best utilize it.
"Brisker is a classic fit for Matt Eberflus' scheme in Chicago as a defender with multidimensional traits," Bowen wrote. "His play style reminds me of Bills safety Micah Hyde. With a smooth pedal, split-field range, and easy transition ability, Brisker can drive downhill on the ball from the deep half or match vertically in quarters. 
"When the Bears do play their single-high schemes, look for Brisker to rotate down, tracking the ball in the run game or lurking underneath in coverage. A highly instinctive player with disruptive traits, Brisker will pair with safety Eddie Jackson in the Bears' heavily defined system."
Next steps
The big story for Brisker in his first weekend of NFL action had much to do with the second part of the Bears' second-round draft process. 
Also picking up corner Kyler Gordon from Washington with the 39th overall selection, Chicago has a pair of defensive backs expected to make an immediate impression. 
While Cosell predicted that "when all is said and done, both guys will end up starting," one of their Bears teammates recommended that it take place sooner rather than later. In an extensive story with Sports Illustrated this week, cornerback Jaylon Johnson said both should start on opening day next season. 
"(Expletive), I'd throw 'em in the fire if you asking me," Johnson said. "I mean, they're our first two draft picks.
"I feel like we've got to (see) what they can do right now. And then I feel like we can kind of know what the attitude and what the vibe is heading into camp. If I was the coach I wouldn't ease them into it. I would throw them out there."