John Harrar, Men of Mackey TBT first-round matchup set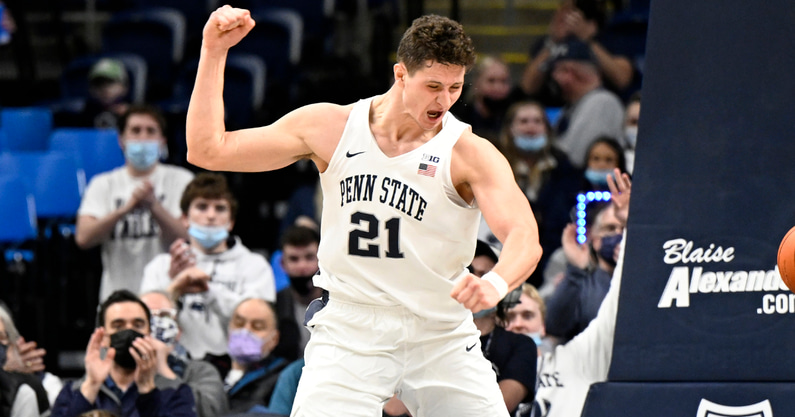 John Harrar's foray into The Basketball Tournament has a location, date, and time. Announcing that he'd be part of the Men of Mackey TBT team last week, the former Nittany Lion big man will tip at 7 p.m. on July 24 against Mid-American Unity. 
The two teams will face each other in the Round of 64 in the Dayton Regional bracket of the $1 million, winner-take-all annual summer hoops tournament. The game will be played at University of Dayton Arena and will be broadcast on ESPN3. 
The winner will face the winner of the 2- vs. 7-seed game between the Golden Eagles and Ohio 1804 on Tuesday, July 26 at 9 p.m. That Round of 32 game will air on ESPN2. 
Men of Mackey scouting report
Harrar's playing opportunity is a product of head coach Micah Shrewsberry's association with Purdue as a former assistant.
Coming off a super senior season with the Nittany Lions in which he notched 10.6 points and 10.3 rebounds per game, Harrar will join a team largely built upon former Purdue alums. Most notably among them, former Boilermaker forward Robbie Hummel is stepping away from the BTN set to participate in this year's TBT. Other former Purdue participants include point guard Lewis Jackson, guard Kelsey Barlow, and guard Jonathan Octeus. 
Last year's Men of Mackey team won its first round game before falling in the second round to No. 1 seed Carmens Crew. 
John Harrar's career achievements
Harrar capped his career at Penn State with one of the Big Ten's most prestigious honors earlier this week. Announced Monday by the conference, he was the Nittany Lions' male recipient of the 2021-22 Big Ten Medal of Honor, becoming just the second men's basketball player to do so in the process. 
Other career recognitions include twice winning honorable mention All-Big Ten status. Four times he earned Academic All-Big Ten status. And, three times he earned the Big Ten's Sportsmanship Award.