Updates: James Franklin, Kyle Whittingham press conference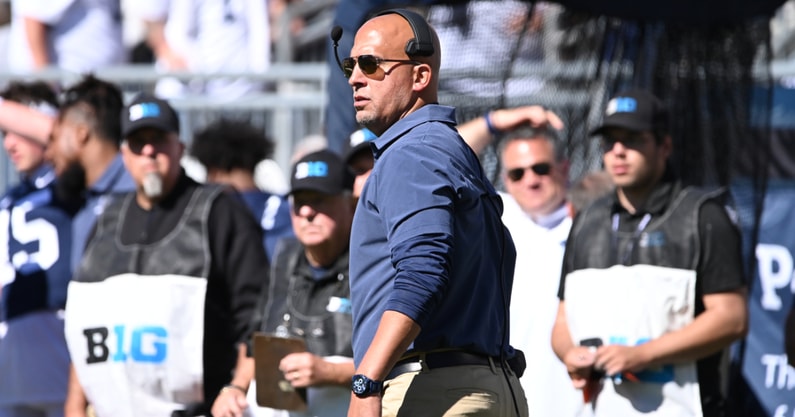 Penn State head coach James Franklin and Utah coach Kyle Whittingham are meeting with the media for the final time ahead of Monday's Rose Bowl.
Follow our live updates from the press conference, here:
(Updating in reverse chronological order.)
James Franklin, Kyle Whittingham joint press conference updates
(Press conference has ended.)
On what they're most confident in with their team:
Franklin – Has been so impressed with leadership of this team. Proud of veteran leaders in a day in college football where it's more challenging than ever. The way guys have handled whole season. The way guys handled opt-outs compared to other programs nationally and even last year. Honest conversations from Penn State perspective and their futures. That's important. Proud of leadership and the legacy they'll leave with the locker room and the right way to do it. 
Whittingham – Proud of football team. Got off to horrible start at Florida. Dropped some Pac 12 games along the way. But just kept fighting. Never quit. Only have seven seniors so will look very similar next year. Stance has always been that during the season it's about the team and after, it's about the individual. Will get vast majority of them returning and that would be a good thing for them.
On what winning a Rose Bowl would mean:
Whittingham – Came up short to a very good Ohio State team last year. To get a win would be another step in right direction for the program. Season is a success regardless. From where they started in the conference, it's big. Harder to sustain success than get there the first time and guys did a great job taking that to heart. To get a win would be another step in the right direction.
Franklin – Played in an unbelievable game with USC last time. Getting here is one thing and takes hard work and perseverance and a plan from when the season ended last year. Both programs want to finish this thing the right way. Both will have momentum going into next year based on rosters. But to end the season with a win, would like to be one of them and against a really good opponent, that's important too.
On injury reports being made available as a proposal:
Whittingham – If it's universal, is fine with it. If just the Pac 12, is not. Would be a strategic disadvantage.
Franklin – Concur.
On Keyvone Lee and Olu Fashanu availability:
Franklin – Keyvone Lee will be available. He's been out for a number of weeks, so will see how the rotation goes. Having him available is really important. He practiced well.
Olu Fashanu will be a game time decision. Have had conversations with him and family. Part of decision to come back was not just being physically ready to play but mentally ready. And that's what was discussed. Have had really good conversations. He's been awesome at practice with reps he's gotten but also with Drew Shelton, who is in position to be a five game starter who had planned on being redshirt.
On Abdul Carter:
Whittingham – The entire defense is phenomenal. He's a great player with a great motor. Very skilled. But they have respect for every level of the defense. There's no question this will be the best defense they've faced. Have a lot of respect for him.
Franklin – He came in very mature and focused for a freshman. All freshmen say they want to play but not all understand the approach you need. He didn't come in early. He was already college ready with his body. Was put together. Once he got on campus, picked up the system quickly. Has the ability to find the ball at linebacker. Some guys naturally have it. He can find the ball and has gotten better at it as the year has gone on. And then he can burst toward the ball unlike many he's had or seen. When you list out the traits, he has a lot of them and will only get better. Is really proud of how he's handled all of it. Will need him to play well.
On preparing for a team that looks like you:
Franklin – Early in the season it's true because in training camp and good on good, playing a team that is similar helps. You have so many of those reps. But at this point of the season, both in the PAC 12 and B1G, there are enough schemes you see that you cover it all. But also, Utah does a little bit of everything, like Penn State. It's important for getting your own defense ready. It's important for preparing defense. Having tempo in offense. If you never see it and then you play a team going fast all the time, that can be challenging as well. Head coach responsibility is making sure you have enough things in your package to prepare your team year round.
Whittingham – It does help to prepare to a certain degree. But doing good on good all season long, that also helps when you're playing a team with such a similar offense. A lot of time to prepare. 15 practices and will see some things that you haven't seen on tape. But get ready for core offense and defense. So it does help a little.
On watching the playoff games:
Franklin – When watching the game, he's texting with DC and OC. You never really turn it off. But it's also interesting the differences between the NFL and college. But the games are more similar than ever with offenses run and mobility of quarterbacks. Wishes it was just enjoyable, but you're trained differently.
On Penn State running backs:
Whittingham – They're tremendous. They can run inside and outside. No running back has success without a great front and these guys have that. They're committing to the run game. Just like Utah. It's very intriguing because of all the similarities between these two teams. The offensive line moving people around is where it starts.
James Franklin – Is proud of them. They have very different personalities but have handled it very well, they have a good relationship, they challenge each other and hold each other accountable. They are committed to the running game and bring diversity to it. When you're playing a good defense like Utah and only have one or two ways to run the ball, they're going to find a way to defend it. So you get the ball in their hands. They've handled everything really well. Nick has had a few longer runs but they can also run with a toughness and get those gritty yards. 
The thing no one is talking about is, they've been running this goal line package but the thing that makes it work is the ability of both of those guys to block. It's rare in college football. Both of those guys have taken an unselfish approach and that's been important for Penn State. And the play action coming off it can be more explosive when there is true concern to stop the run.
On games that go down to the wire:
James Franklin – Utah's program has been tested and responded. Penn State's losses were to two top five programs. Everyone in the room understands the Big Ten East may be the toughest side of the conference in the country. Were in these situations all the way back to Purdue. So experience is what counts. You find different ways to win.
Opening statement
James Franklin – Had a phenomenal experience. Been treated first class throughout. 
There are a lot of similarities between these programs and how they're built. Fundamentally sound. Built on defense. Their quarterback makes them go. A ton of respect for him. 
Will be a great game. Will be four quarters.