Local standout RB D'Antae Sheffey visiting Penn State on Saturday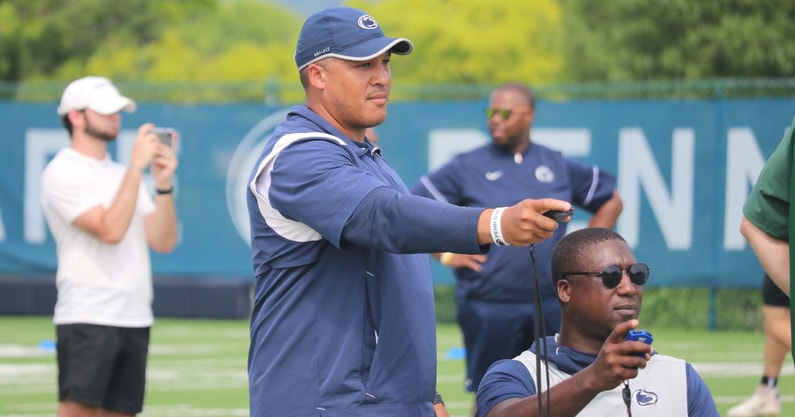 Penn State will host a number of high-level recruits on Saturday in Happy Valley, but one won't have to travel far to check out campus. The Nittany Lions will play host to State College (Pa.) Class of 2026 running back D'Antae Sheffey on Saturday. Sheffey burst onto the scene for the Little Lions as a freshman last fall.
The 6-foot, 190-pound back was a vital part of State College's 13-1 run in 2022 that saw Matt Lintal's team make it to December before falling to Harrisburg in the Class 6A state semifinals. Sheffey carried 223 times for 1,725 yards and 22 touchdowns in 14 games. He added 17 catches for 167 yards and two scores as a receiver. Sheffey was a second-team Freshman All-American by MaxPreps and was a First-Team All-State selection in Class 6A. 
"D'Antae has a quiet confidence about him," Lintal told BWI. "He is a humble and hard-working young man who had the best season I have ever seen from anyone as a freshman. He rushed for over 1,700 yards and 24 touchdowns, but his best stat was 223 rushes and zero fumbles. He has a very high football IQ and can also catch the ball well out of the backfield. We are very excited to watch him continue to develop through the rest of his career."
Sheffey picked up his first offer in January
Syracuse was the first program to offer Sheffey on January 13. Former Penn State assistant coach Brent Pry and Virginia Tech followed on January 17, with Toledo, Pittsburgh, Kent State, Cincinnati, Temple and Akron joining the chase before the end of the month. Sheffey will visit Oklahoma on March 25, Rutgers on April 1, Virginia Tech on April 8, Syracuse on April 15 and Cincinnati on April 29. 
Penn State has also shown plenty of interest, but the Nittany Lions have yet to offer. Running backs coach Ja'Juan Seider, whose son Jaden Seider played for State High before walking on with the Nittany Lions, is one of many coaches following the 2026 prospect on Twitter. College coaches are not permitted to have two-way communication with Class of 2026 prospects until Sept. 1, 2024.  
Penn State is slated to have three former State College players on its roster this fall. Senior safety Keaton Ellis is set to return to his starting role in the secondary, while redshirt freshman Jashaun Green is also a part of the safety room. State College quarterback Finn Furmanek will walk-on and play tight end for the Nittany Lions this fall.