Pair of Penn State commits earn fifth-star from On3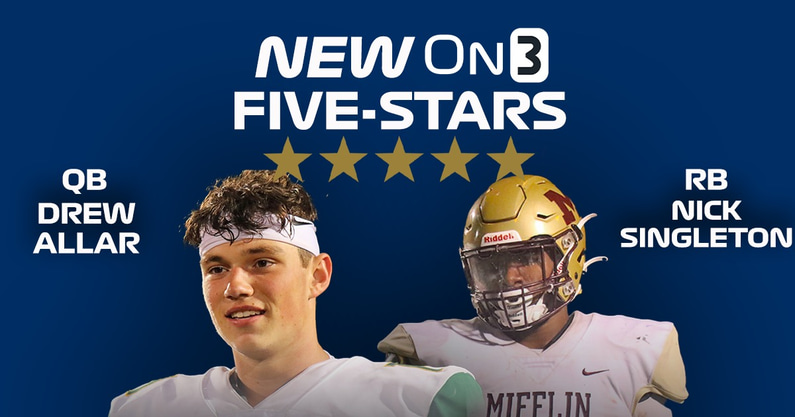 Two Penn State Class of 2022 commitments have earned a fifth-star from On3.
Medina, Ohio quarterback Drew Allar and Shillington, Pa., Governor Mifflin running back Nick Singleton are now one of 32 high school seniors to earn that status. Allar is ranked as the nation's No. 21 player and top passer by On3, while Singleton is No. 24 overall and as the top player at his position. Both players are also On3's top-ranked player in their respective states.
Subscriber to Blue White Illustrated and On3 today for just $1 for a yearly subscription until Nov. 2022
Allar's rise continues ahead of Penn State start
"Drew Allar has been the top quarterback in On3's 2022 rankings since the initial release (which coincided with Quinn Ewers' reclassification)," On3 scouting director Charles Power writes. "The 6-foot-5, 230-pounder has made a strong case as the top arm talent in the cycle for well over a year, but he's taken his game to a new level this fall."
Allar's Medina team is 13-0 and takes on St. Edward on Friday night in the OHSAA football Division I regional final. Entering his school's first title game, the quarterback has completed 278 of 452 passes for 4,134 yards and sports a 47-to-4 touchdowns-to-interceptions ratio. The 6-foot-5, 230-pound senior also has nine scores and nearly 500 yards on the ground this year. 
"We've seen Allar continue to level up with his skill and feel for the game," Powers writes. "This is much more than just a big-armed passer who slings the ball around. Allar makes some difficulty, small window passes with regularity. The field vision and spatial awareness combined with this arm dexterity and ability to deliver from multiple platforms is unique. 
"Additionally, Allar isn't sitting back in the pocket untouched. He often plays from an empty set and is forced to make second reaction plays and quick decisions when blitzed. He's playing with supreme confidence and the game is moving slow."
Singleton continues to star as
Singleton has put up ridiculous numbers as Governor Mifflin continues its march through the PIAA District III playoffs.
"Nick Singleton has separated himself as the top running back in the 2022 cycle," Powers writes. "The 6-foot, 210-pounder hits all the critical factors for the position in terms of athleticism, build, skills and production.
"You don't have to squint to see a top running back prospect when watching Singleton. He plays with an exceptional burst and runs with outstanding body lean. Singleton is a twitchy, violent runner and plays up to his 10.89 second 100-meter speed. He runs through contact at the second level with regularity. The Penn State commit is dominating the competition as a senior, rushing for 1,718 yards (14.3 yards per carry) and 36 touchdowns on just 120 carries, at last check."
As of Friday, the Penn State Class of 2022 is No. 8 in the On3 Consensus team rankings.