Penn State-Michigan State predictions: Will Lions end regular season with a win?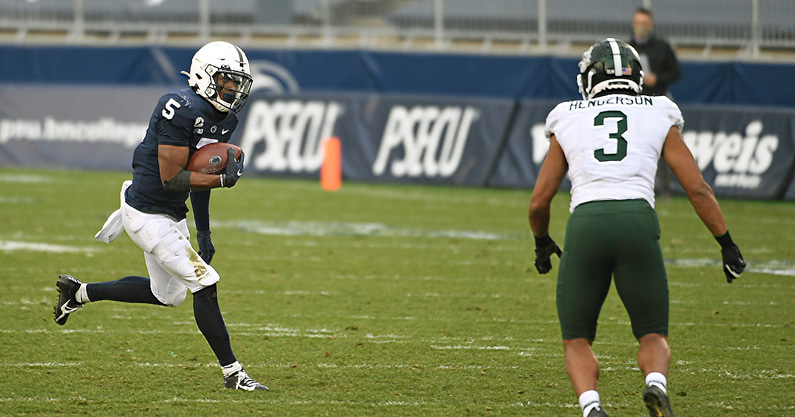 Penn State travels to Michigan State this weekend for both sides' regular-season finale.
The Nittany Lions are 7-4, while Mel Tucker's Spartans carry a 9-2 record into the contest at Spartan Stadium. Kickoff is set for 3:30 p.m. ET on Saturday. ABC will televise the contest.
Health issues are a big talking point on both sides. Michigan State could be down its best running back and top two receivers. Penn State, on the other hand, is recovering from an unusually high number of flu cases plus other injuries.
In Vegas, the total is set at 51.5, and Penn State is a 1.5-point favorite.
Who will come out on top? Here are our predictions.
Nate Bauer (8-3)
At this point, I don't care what the name on the jersey says for Penn State's opponents from week to week. The tenor of nearly every game the Nittany Lions have played this season has been so similar that projecting anything different in the regular-season capper would be foolhardy.
So here it goes: Penn State will score about 24 points offensively. A defensive touchdown could put that over the top to 31, but don't count on it. The running game will be fairly pedestrian and, depending on Sean Clifford's health, Penn State will throw for +/- 300 yards.
Penn State's defense will be stout. Michigan State will move the ball between the 20s. Punting will be important. Michigan State will score fewer than its average of 28 points per game against Big Ten opponents.
Ultimately, that means a game with both teams probably getting into the 20s but neither likely to crack 30. The pick, if you absolutely have to make one, is Penn State by a point in a virtual toss-up, the edge going to the less-unhealthy Nittany Lions in the wake of the Spartans' bloodbath at Ohio Stadium last weekend.
Penn State 24
Michigan State 23
Greg Pickel (9-2)
I was initially puzzled when oddsmakers made Penn State a small favorite over Michigan State. But, the Spartans' health issues on offense and a nation-worst passing defense quickly solved that riddle.
Unless you have inside injury information, this game should not be a part of anyone's betting menu. It's hard to trust Penn State on the road knowing all the issues it has. Then again, do you really want to put your faith in a Spartans side that might be without its best players and can't stop anything through the air?
This has all the makings of an extremely ugly game that ends up being entertaining because of it.
Michigan State 27
Penn State 24
Join Blue-White Illustrated and On3 for just $1 today for an entire year of access to insider Penn State news, recruiting updates, and more.
David Eckert (8-3)
This is an awkward game to predict for a few reasons. It sounds like Penn State is over its flu outbreak to some degree, but you've still got to keep that in the back of your mind. James Franklin did say on Tuesday that there were a couple of new cases since Saturday's game. Michigan State has a variety of question marks surrounding the health of some of its key players. Plus, we don't know how the Spartans will react after taking the shellacking of a lifetime at Ohio State last week.
We do know that Michigan State cannot stop anything in the passing game. It gives up 339.9 yards per game through the air, on average. That's a number that was greatly influenced by Ohio State's dominance last week, but it's still more than 60 yards greater than Maryland, which ranks 13th in the Big Ten. For that reason, mixed with a little bit of a desire to catch up to Greg and Matt, who have both picked MSU, I'll roll with the Lions.
Penn State 31
Michigan State 24
Matt Herb (9-2)
Penn State looks as though it matches up pretty well with Michigan State. The Spartans have run the ball effectively when Kenneth Walker III has been healthy, but Walker was banged up last week at Ohio State, and the Nittany Lions are pretty good against the run. On offense, the Lions have some big-time playmakers in the passing game, while Michigan State's biggest liability is a porous pass defense. That would seemingly bode well for PSU, which is looking to pull off its first win over a ranked opponent since beating Auburn in Week 3.
But there's something holding me back from picking the Lions this week. Maybe it's that Michigan State will be eager to atone for last week's debacle in Columbus. Or maybe it's that all too often this season, Penn State has just come up a play or two short. The Lions haven't been blown out by anyone, but lately, against opponents with comparable talent, they haven't made the kind of big fourth-quarter plays that would turn narrow losses into narrow wins. I could see that trend continuing in East Lansing.
Michigan State 27
Penn State 20
Ryan Snyder (8-3)
It's pretty simple for me this week. Michigan State's secondary is one of the worst Penn State has faced this season. That plays well into what Mike Yurcich and the offense have to do here.
The Spartans' pride was also snatched from them last Saturday when Ohio State ran them off the field in just the first half. We see teams all the time struggle after losses like that, and I think we'll see that on Saturday.
Clifford will start and should have success. I expect Jahan Dotson and Parker Washington to both put up some pretty good numbers. Until Michigan State's secondary shows me something, I'll roll with the Nittany Lions. I actually think they'll win pretty convincingly, too.
Penn State: 28
Michigan State: 17